Cleveland area talent have a chance to be cast as extras on "Fast 8"
"Fast 8" has been filming in Cuba, is set to film in Atlanta and production is also coming to Cleveland.  Cleveland area casting directors Angela Boehm is now accepting submissions from Cleveland Ohio locals who would like to work as background actors on "Fast & Furious 8." Second unit production of "Fast 8" will begin in Cleveland next month and film through June. This is a second unit shoot that will mostly consist of action shots, they will be needing talent to work multiple days as recurring extras. The scenes will not include the main cast so they will not be needing any stand-ins or casting for any principal roles.
The movie is also in production in the Atlanta area this spring and Atlanta area residents also have a chance to get cast in small roles. Extras casting directors for the Atlanta portion of production are Rose Locke Casting and they too have released casting notices for "Fast 8."
Universal Pictures is working on a whole new chapter for their popular "Fast and Furious" franchise.   "Fast 8: New Roads Ahead" is supposedly the 1st film in a trilogy that will bring the long running  "Fast and Furious" franchise to a close.   "Fast 8" is in production this summer and will reunite most of the "Fast & Furious" cast from previous films.  Vin Diesel announced the news of the upcoming trilogy via his Instagram account, where he also announced the release dates for the 3 final films. "Fast 8" will be hitting the movie theaters in about a year on April 14, 2017.  "Fast & Furious 9″ will follow two years after the first on on April 19,2019 and fans will have to wait until the next decade for the finale, "Fast 10" which is set to hit theaters on April 2, 2021.
Vin Diesel turned to Instagram this week and posted photos from the set in Cuba. Some time back the production was rumored to be considering Cuba as a filming location, seems they are in fact filming in Cuba and photos are emerging from the Cuban set with a car chase through the streets of Havana. In his Instagram selfies from the set in Havana, Diesel comments on his excitement over being able to film "Fast 8" in a place "that no one thought would be possible." "Fast and Furious 8" is being directed by "Straight Outta Compton" director, F. Gary Gray who is also seen on set in Cuba.
According to the movie's IMDB page, "Fast 8"  will see Vin Diesel reprises his role as Dominic Toretto, Michelle Rodriguez returns as Letty, Eva Mendes will play Monica Fuentes, Lucas Black plays Sean Boswell, Tyrese Gibson returns as Roman Pearce and Ludacris plays Tej Parker.   Charlize Theron has been cast in  "Fast 8: New Roads Ahead" as as the sole villain who will be giving Dominic Toretto a run for money.   Jason Statham, Dwayne Johnson and Kurt Russell are also said to be returning to the cast.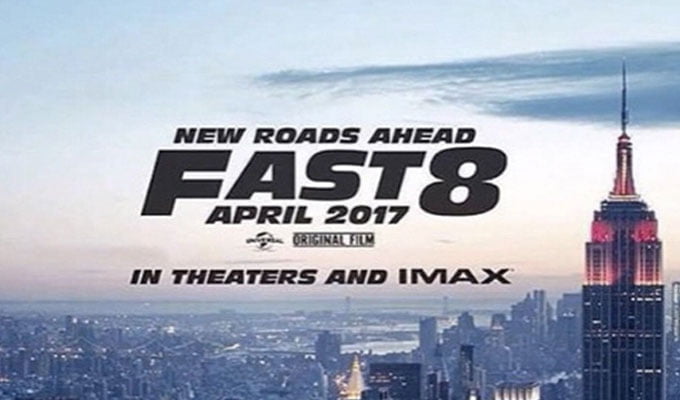 Extras wanted on "Fast & Furious 8" in Cleveland
Interested? Here is the casting announcement from the Cleveland Film Office:
We are proud to announce that angelaboehmcasting will be casting BACKGROUND EXTRAS for "FAST 8" filming in Cleveland, OH May through June. This is Second Unit filming which will mainly consist of stunts, so no stand-ins or principle casting will be done out of Cleveland, although we will require some reoccurring background extras for multiple days.
If you are not currently registered in our database please go to angelaboehmcasting.com and click on "REGISTER" to submit yourself at no cost to be considered for this project as well as future projects. Please do not e-mail us directly regarding our casting needs as we be communicating our needs shortly.
Also, the production needs skateboarders 18+ who look young.
Still looking for skateboarders all ethnicities on Fast & Furious 8 filming in Cleveland,Ohio. Must be 18yr old to look younger, must be available for filming May 22nd. Please send 2 pictures to Angela@angelaboehmcasting.com with name, phone, and location where you reside. Please make sure pictures at least one is full body shot. Please put skateboarders in the subject. Must be able to ride, special tricks not needed.