Video auditions – Tryout for The Gong Show 2017
ABC is bringing back "The Gong Show" and variety acts, good and bad, have a chance to get on the show.
The popular 70s game show is getting a revival on the Network and there is a casting call out for performers.  According to the show's IMDB page, the new "Gong Show" will be an updated version of the beloved 1970s game show where people with talent, and without, would compete to impress a panel of celebrity judges. Those that did not impress or entertain the panel heard the disheartening sound of a mallet hitting the gong which brought an end to their act.
The casting call for the "Gong Show" is out and folks with talent of all kinds can audition online. The Gong Show is looking for the zaniest, funniest and truly unique acts in the United States. Anything goes on "The Gong Show" stage and there will be prizes for those that don't get the gong.  "The Gong Show" will be filming in the Los Angeles area during the spring of 2017 and everyone is able to get their video auditions in to the show's producers and casting directors.
According to a story in Deadline, ABC's picked up the game show for a 10 episode first season which will premiere in 2017. Also, according to Deadline,  the show will be produced with  Sony Pictures Television, which franchised the original series.   Will Arnett is executive producing the new "Gong Show" through Electric Avenue Productions.
ABC has revived a few old game shows which include $100,000 Pyramid, Celebrity Family Feud, Match Game and To Tell The Truth.
In a statement, Rob Mills, who is the networks  SVP, Alternative Series, Specials & Late-Night Programming stated  "ABC has tapped into the nostalgia and excitement of primetime game shows," and added, "We are thrilled to add The Gong Show to ABC's schedule spearheaded by the incomparable Will Arnett."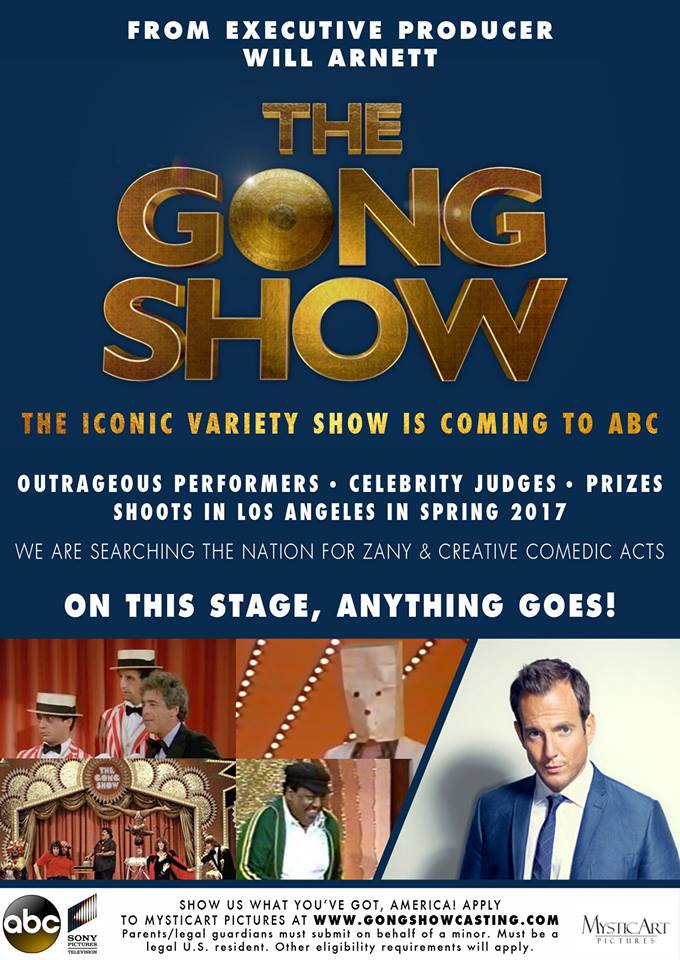 Deadline also reported that each episode of the revived "Gong Show" will feature "non-traditionally talented performers" who will perform their acts in front of an ever changing panel of celebrity judges.  Chuck Barris hosted the original 1970's show and ABC has yet to announce who will be taking his place as the "Gong Show's" emcee or if Will Arnett may be hosting the show.  Chuck Barris, is also credited with creating 2 other iconic 70's game shows,  The Dating Game and The Newlywed Game.
For those too young to remember the show, here you go…..