"The Real Music Artists of Chicago" Seeking Music Artists/Singers For Music Festival
Location: Chicago, IL
Type: Musicians
The Realest Music Artist Of… is a national music festival held in major cities and towns where local music artists can compete for a visual prize and title holder.
Are you a talented, passionate music artist in hip-hop, R&B, rap, rock, pop, country, blues/jazz, classic/opera or electro/EDM? Then submit and compete for a chance to win a complete visual prize! You can also win the title "The Realest Music Artist of Chicago".
PRIZE PACKAGES:
-1st Place Winner will receive: The Complete Package: A free highly visual, high quality music video, a "behind-the-scenes/making of" video, a photo shoot that can be used for marketing and submissions, a copy of live performance, a beautifully framed award, and an exclusive interview video.
-2nd Place Winner will receive: An exclusive interview, a copy of live performance, photo shoot, and a beautifully framed award.
-3rd Place Winner will receive: An exclusive interview, copy of live performance and beautifully framed award.
All participants will receive a free copy of their performances and photos.
ONLY $40 TO PARTICIPATE! If you have what it takes to then submit now! This is your chance to perform live!
Submit your song that you would like to use to compete for the festival. Be sure the song is of quality, good taste, marketable, and "clean". You must hold all copyright permissions to utilize the song for the festival. Submission fee is due after you have been accepted.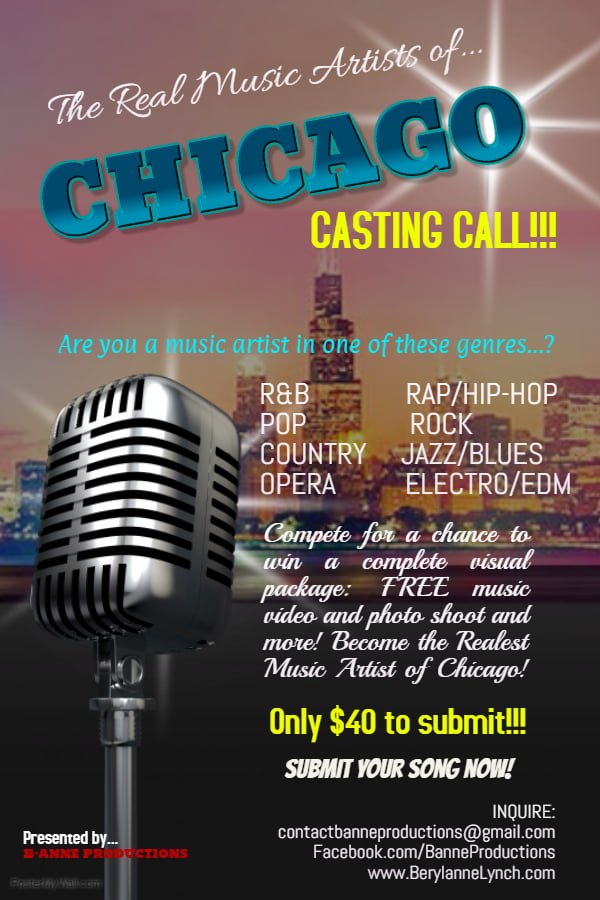 HOW TO SUBMIT:
Submit the official song AND instrumental version along with your resume with your musical background, headshot or recent photo, website, and social media links to: CONTACTBANNEPRODUCTIONS@GMAIL.COM
Please use subject line: The Real Music Artists of Chicago Submission
The festival will take place in January or February 2017. The exact date will be announced.
DEADLINE TO SUBMIT: DECEMBER 16 2016
Follow the festival at Facebook.com/BanneProductions for updates and more info.
CONTACT:
Ms. Berylanne (Event Producer)
Email: ContactBanneProductions@gmail.com
www.BerylanneLynch.com
Payment: There is a fee to participate
Prizes available
City or Location of call: Chicago, IL
Please submit to: contactbanneproductions@gmail.com by 2016-12-16
This casting notice was posted by: B-Anne Productions