Octavia Spencer and Melissa McCarthy are teaming up for another project, Netflix's "Thunder Force"
The new movie is now filming in the Atlanta area and extras casting directors may still be looking for area locals to fill a few small, non-speaking, background roles. While the plot of the movie, Thunder Force, seems to still be under wraps…. or at least that's what the flick's IMDB page states, there are some pics available from the set that have the pair wearing some serious black latex superhero type outfits. No word yet as to what the pairs superpowers will be, but, I'm sure there will be some comedic flair involved.
There does not seem to be a release date, as of yet.  Atlanta area residents interested in working on-set as a paid movie extra can see below for the details and the links to the casting teams site.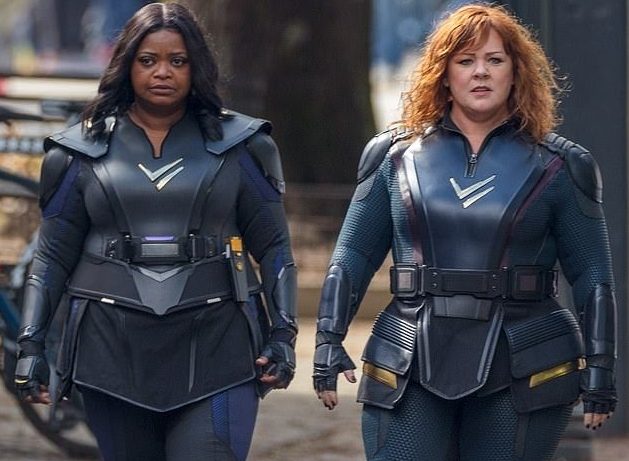 The Daily Mail did offer a one sentence description which stated that…. McCarthy and Spencer play two ordinary women who suddenly develop superpowers, ushering them to a higher calling.  The duo, dynamic duo…. so it seems, do look like they are ready to kick some butt, especially in those boots (see below).
According to the movie's IMDB page, the film is written and directed by Melissa McCarthy's husband Ben Falcone and being produced by Melissa McCarthy, Marc Platt, and Ben Falcone. McCarthy is in another action comedy flick this year, the movie Superintelligence.
Thunder Force is filming in the Atlanta area and in order to be considered you must be local to Atlanta as no travel is being paid and these are roles for extras.
"Thunder Force"
Chicago Citizens & Campaign Supporters @ Gala / Ball
SHOULD HAVE HIGHER END / COCKTAIL to FORMAL ATTIRE
Any Ethnicity
Male or Female
Age: 25-100 yrs
Rate: $75 / 8 hrs
Location: Atlanta, GA
May need to attend a Fitting Date TBD
https://www.castingtaylormade.net/adults/11-11-2019
Upscale Steakhouse Restaurant
FRESH FACES // SHOULD OWN HIGHER END & NICE CLOTHING
Any Ethnicity
Males & Females ONLY
Age: 18-100 yrs
Rate: $75 / 8 hrs
Call Time : TBD – Day Time Call
Location: Atlanta, GA
Filming Dates : 11/12
https://www.castingtaylormade.net/adults/11-12-2019