Lincoln Nebraska Casting Call for Musical Theater
The TADA Theater in Lincoln Nebraska is putting together a production of  'Chicago The Musical" and is holding theater auditions on  Sunday from 1 p.m. to 4 p.m. and Monday from 6 to 10 p.m. at TADA Theatre 70 1 P St.
Chicago is one of the most popular musicals of all time with music by John Kander, lyrics by Fred Ebb and a book by Ebb and Bob Fosse. The musical is based on a play from the prohibition era and focuses on crime and corruption in the roaring 20's when criminals where celebrities. The main characters, murder their lover / husband and are subsequently sent to jail.
The original production opened in 1975 on Broadway and since then countless theaters have produced the show. The Musical was also recently turned into a Hollywood movie.
Please the audition flyer below for more information on where to go, what to bring and how to prepare.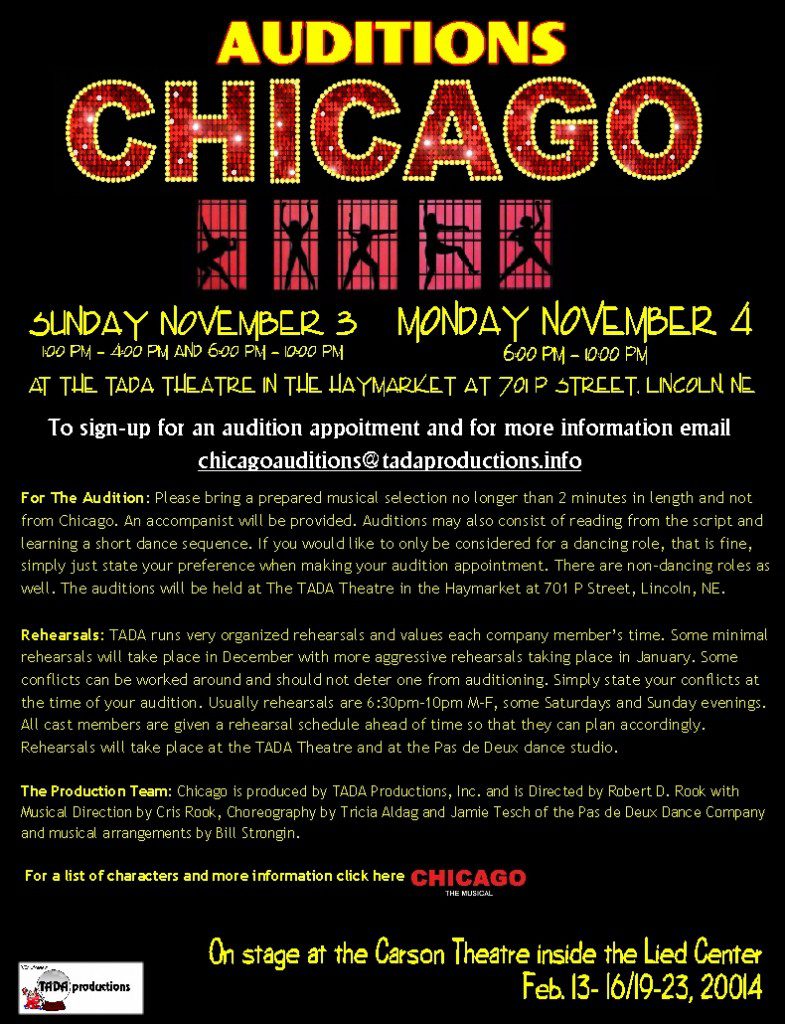 Performances will be at the Carson Theatre inside the Lied Center Feb. 13- 16 and 19-23, 2014. All auditions are by appointment only. Sign up at www.tadaproductions.info or send an email to chicagoauditions@tadaproductions.info.
Those auditioning should bring a prepared musical selection no longer than 2 minutes in length and not from Chicago. An accompanist will be provided. Auditions may also consist of reading from the script and learning a short dance sequence. If you would like to only be considered for a dancing role, that is fine, simply just state your preference when making your audition appointment. There are non-dancing roles as well.
You can visit the theaters site for information on all the open roles,  www.tadaproductions.info and other information about the production.