The UK (British) film "The Woman in Black" is now planning a sequel. A casting call for kids has been released. The films producers are seeking UK kids that are aged 10 to 13 that have diving experience. The movie is filming in Pinewood Studios and Oxford and the casting call was released by a UK based diving school that is working with the films producers.
To apply for auditions, you must be a resident of the area (Oxford)with children who know how to scuba dive in open water or are very comfortable swimming in open water. These are not speaking parts and the children will be extras playing ghost images in the water.  The scene will be filmed underwater for an extra spooky feel.Send head and body shot to info@divecrew.co.uk. The dive school will be forwarding the applications for auditions to the film's producers, Hammer Films. Please do not contact the Diving school directly as they are not the casting directors, they are just helping the casting directors find kids for the parts.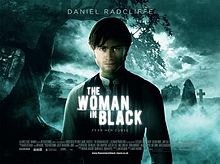 The Woman in Black was a horror movie that was released in 2012. The Woman in Black was a British movie that was directed by James Watkins. The film and it's screenplay is taken from a novel written by Susan Hill about 3 girls who live in a small village in England that one day just walk to a window and jump. The girls all fall to their deaths and watching them is a mysterious figure, a woman in Black. Supernatural occurrences then follow the house and the families that live in it.
The Woman in Black stars Daniel Radcliffe(Harry Potter), Ciarán Hinds, Janet McTeer, Sophie Stuckey, and Liz White. The screenplay for the original film was written by Jane Goldman( X-Men: First Class). There is no mention of whether Jane Goldman will work on the new script but the news did announce that the film will again be based on work done by Susan Hill, the author of the novel that the original film is based on.
British Horror film producers, Hammer Films, have announced work on the sequel which is titled "The Woman in Black: Angels of Death". The story picks up 4 decades later with a new family that moves into the haunted house called the "Eel Marsh House" and the events that follow. Since the new film is set so many years into the future of the "Eel Marsh House", it is unclear if the original cast will be a part of the new project.
Again, please only apply if you (your kids) fit the specs completely. This is only for kids in the UK that live around the Oxford area with open water diving experience or lots of swimming experience. This is for an extra role (non-speaking) and will most likely not pay enough to cover any travel expenses for out-of-towners.
Now if you really want to get creeped out and get a feel for the film, you can watch the trailer for the first movie "The Woman in Black)