The 90's TV show "Baywatch" is getting a modern day remake for the big screen.
The new "Baywatch"  movie is scheduled to begin production in the spring of 2016 and a casting call has just been released for folks with some beach bodies. The movie will star Dwayne Johnson and Zac Efron as two unlikely prospective lifeguards who are going after the same job at a southern California beach. Alexandra Daddario has landed the female lead in the upcoming "Baywatch" movie that is set to hit theaters in 2017.
The remake is being described as a comedy. Efron and Johnson have expressed their excitement about the project. In an ET interview, Johnson stated "The cool thing about this is we want to make a movie that's big, fun, epic, and all the things that you want," he added. "We want to make sure that it has edge and badass action and dirty jokes." Efron mentioned that the "Baywatch" movie  will be R-rated and "badass," quite different from the 90s TV series that inspired the film.  According to IMDB, Seth Gordon (Horrible Bosses) is set to direct the comedy which begins filming in early 2016.
The original "Baywatch" TV show was a prime time, NBC,  soap opera that starred David Hasselhoff, Pamela Anderson, Yasmine Bleeth and many others. The long running show ran from 1989 to 2001. "Baywatch" followed Veteran lifeguard Mitch Buchannon (David Hasselhoff) as he managed a team of ever changing younger lifeguards working on a sunny beach.  The show sparked a spin-off series called "Baywatch Nights" as well as a feature length film.
While the film in set in sunny Cali, much of the filming will take place in the Savannah and Atlanta Georgia area. Extras casting directors for the film are already working on finding local talent that can rock a bathing suit. Currently they are casting men and women in the Savannah area to work as paid background actors. The film's CD's are also seeking local lifeguards that would like to work on the film.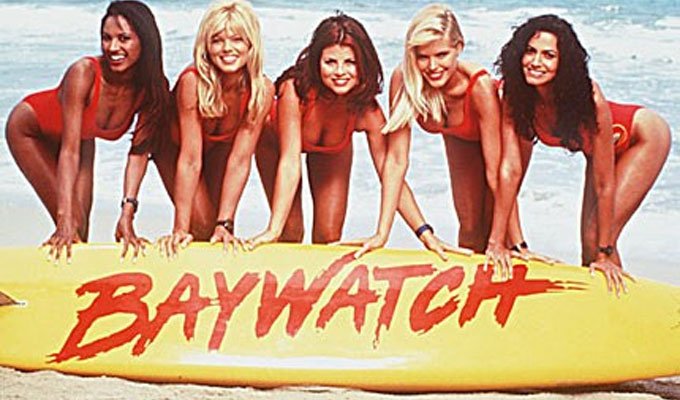 Here's a chance to get cast in a small role in the upcoming "Baywatch" movie.
Interested? Here is the casting notice:
ANNOUNCING NEW FILM
Shoots in Savannah and Atlanta
Savannah (Mid March to Mid April)
Atlanta (Mid April – May)
Right now we are looking for HOT Men and Women
that are local to Savannah or willing to work local in Savannah!
Please send CURRENT photos in your bathing suits!
We are also seeking Local Certified Lifeguards
that are local to Savannah or willing to work local in Savannah !
We are ONLY casting for Savannah at this time!
Please use the Rose Locke Casting Savannah Facebook to keep up with castings.
Please DO NOT SUBMIT to the email unless you are local to Savannah or willing to work as a local!
Beach@RoseLockeCasting.com
Include 3 pics (head, body and profile) age, ht, wt, and all contact info.
Subject: BAYWATCH
Please only apply if you live in the Savannah, Georgia area.
The original NBC "Baywatch" theme song was "Save Me" off of Peter Cetera's 1988 Album. The song is performed by Peter Cetera, Bonnie Raitt on guitar and Richard Sterban ( The Oak Ridge Boys) on backup vocals.