Mark Wahlberg's new movie, "Patriot's Day" is holding an open casting call in Boston.
Looks like the feature film about the Boston Marathon bombing is coming together with filming scheduled to begin later this month. CBS films is producing "Patriot's Day" starring Mark Wahlberg and J.K. Simmons.
"Patriot's Day" chronicles the events that led up and followed the tragic Boston marathon bombing is beginning production in the Boston area this spring. Boston Casting has announced that they will be holding an open casting call next weekend, on March 13th. The movie is looking to cast area locals in lots of available background roles. Some of the types the casting directors are seeking include police types, SWAT team, runners, paramedics, medical staff, firefighters and more.
The movie will be casting many adults to fill the small paid roles.  The open casting call will be held Sunday March 13, from 10 a.m. to 5 p.m. and is for talent 18 years of age or older only. Adults are asked to come prepared with a photo or snapshot that they are able to leave with casting directors.
According to Variety, Peter Berg will direct "Patriot's Day" with Scott Stuber and Dylan Clark producing through their Bluegrass Films banner. Also producing the project are Mark Wahlberg, Stephen Levinson and Michael Radutzky. CBS will be producing and distributing the film along with Lionsgate Entertainment.
According to the films's IMDB page, "Patriots Day"  will star  Mark Wahlberg as a Boston PD officer Danny Keeler and Oscar winner J.K. Simmons as a Boston Police Sargent. The IMDB gives a short plot description. "Patriot's Day" is described as an account of Boston Police Commissioner Ed Davis's actions in the events leading up to the 2013 Boston Marathon bombing and the aftermath which followed the bombing including the huge manhunt across the city to find the people behind the Boston Marathon bombing.  Former Boston Police Commissioner Ed Davis, will also be a character that is featured in the film.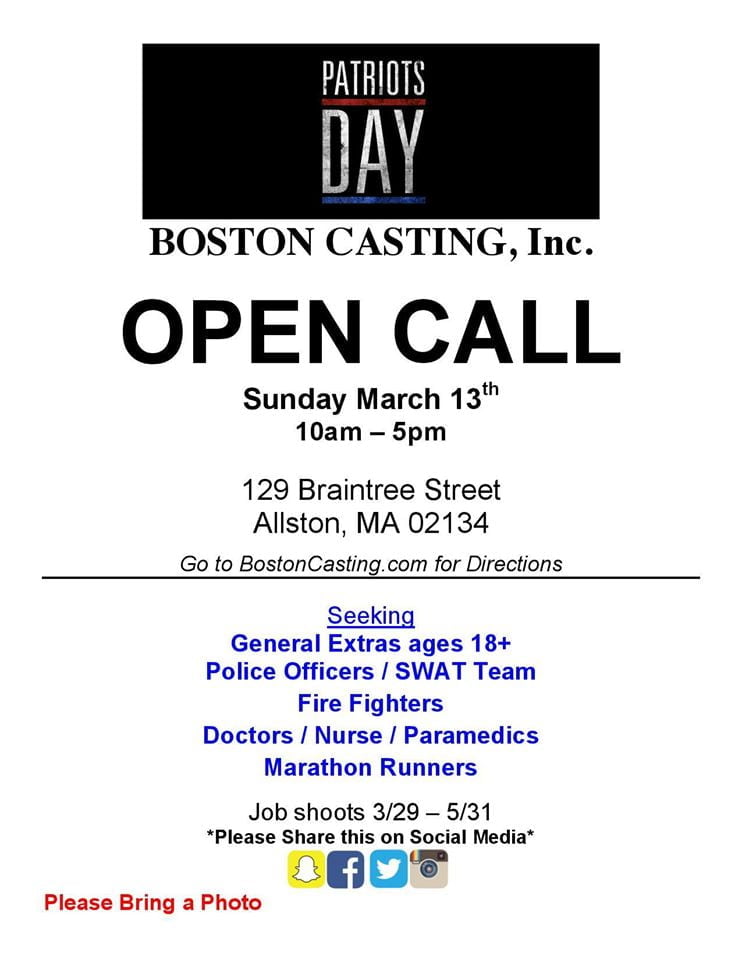 According to the local CBS affiliate, filming plans for the movie caused brief controversy in Watertown. Producers planned to recreate the shootout with the Tsarnaev brothers in the Watertown neighborhood where it took place. The story went on to say that many residents disagreed with the plans, and town officials said the filming would not take place in Watertown.
Boston Casting is located at 129 Braintree St, Ste 107 in Allston, Massachusetts. For more info, actors and talent may check the casting directors website atbostoncasting.com.
"Patriot's Day" will be filming in the Boston area between March 29 and May 31, 2016.  The movie is scheduled for a December 2016 limited release with a nationwide release in January of 2017.