Fort Lee, NJ/George Washington Dinner Detective Auditions
Location: New York
Type: Theater
The Dinner Detective- America's Largest Murder Mystery Comedy is seeking performers for its new Fort Lee NJ/George Washington Bridge location.
Paid Roles! Scheduling happens one month at a time based on your availability.
Audition Date and Time: Sunday, September 16th, 2018 1pm-4pm. If called back, expect to stay through until 4pm.
Audition Location: DoubleTree Hotel at 2117 Route 4 Eastbound, Fort Lee, NJ 07024
Seeking performers 21+. Especially seeking performers who can portray 35+. All ethnicities encouraged.
To submit for audition: please email fnjDDcasting@gmail.com with a pic/resume. Confirmation of a guaranteed slot will be sent within two business days.
SHOW DETAILS
Voted Best Dinner Show and Best Improvised Show across the country, The Dinner Detective is America's largest murder mystery dinner show, with 60 locations nationwide! Our shows are set in the present day and take place in real time. NJ location performs public shows at the DoubleTree Hotel Fort Lee-George Washington Bridge.
This is an ongoing run. Most shows take place on Saturday nights. Rehearsal is from 4:00 – 5:45 PM, and the show is from 6:00 – 9:00 PM. Pre-show rehearsals are for that night's cast only. You will not work every show and we can accommodate most schedules.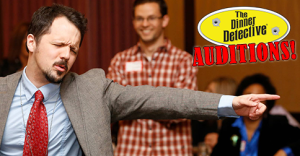 CASTING DETAILS
Roles are open to all actors, improvisers, and performers. You must be comfortable interacting with audience members in semi-scripted situations. Some roles you will be expected to blend in with the audience during the show. All roles paid ($45-100/show depending on role) and most actors also receive dinner and performer gratuity in addition to show pay.
AUDITION DETAILS
Please arrive by no later than 1pm. Audition consists of improv, performing scenes and exercises, and information about our company. Please bring a picture and resume. No need to prepare a monologue/scene in advance; audition is completely improvised.
TRANSIT DETAILS
A to 175th St Station
4 min walk to GW Bridge Bus Station
Catch the 175, 181, 182 or 188 across the bridge for $1.85 to GW Bridge Plaza
6 min Uber/Lyft from Plaza Stop to DoubleTree Hotel
Payment: Paid
City or Location of call: New York
Please submit to: fnjDDcasting@gmail.com
This casting notice was posted by: The Dinner Detective