Buddy: The Buddy Holly Story
Location: Newport, OR
Type: Theater
Come and be a part of History. Porthole Players is producing this stage jukebox musical about the life of Buddy Holly. The show calls for many actors and musicians of many ages. We are in need of so many other talented actors and singers to play the important characters that shaped his life so we hope you will join us.
Please email a head-shot and resume and we will set up an audition time.
Rehearsals begin mid Oct. We are doing only TWO WEEKS of Rehearsal followed by a short tech week. Show opens Nov 16th and closes Dec 2nd.
Compensation for travel and housing will be provided.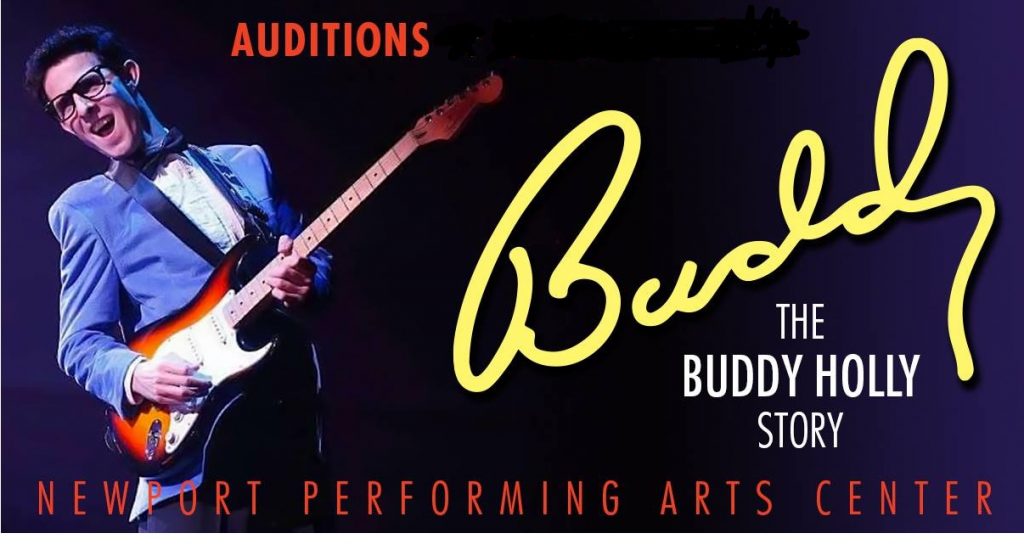 Roles available:
Ritchie Valens: Male, 18-25
good-looking with charisma, a dedicated eye for the ladies. His key song is "La Bamba." Must be able to act and move well.
ETHNICITY: Latino/Hispanic
Maria Elena Holly: Female, 18-25
BUddy Holly's Wife attractive, classy and well-educated. Must be able to sing and act.
ETHNICITY: Latino/Hispanic
Hipockets Duncan: Male, late 20s-40s
an exuberant hometown radio DJ from Lubbock, Texas, with an air of authority and a keen sense of humor. Singing and/or musician a plus
ETHNICITY: Caucasian
Norman Petty: Male, late 20s-40s
a record producer from Clovis, New Mexico, with a businesslike manner and a love of making records. Singer and/or musician a plus
ETHNICITY: Caucasian
Vi Petty: Female, late 20s-40s
the wife of Norman with a heart of gold. Must have exceptional rock 'n' roll keyboards ability, with a good sense of humor.
ETHNICITY: Caucasian
Apollo Performers: 2 or 3 males and/or females, any age
Ability to hold the stage on his/her own. Key song "Shout" Must have good comic timing and be able to act, Special chorus part.
ETHNICITY: African American
The Company: Males & Females, any age,
singer/musicians, mostly under 30 years of age. Must be able to sing and have ability to play a multitude of roles. Musicians a plus.
ETHNICITY: Any
The show will be defined around the talent which is available and cast. Experience and training are not necessary but musical ability is a plus.
Payment: Other
City or Location of call: Newport, Or
Please submit to: efuruheim@gmail.com by 2018-07-31
This casting notice was posted by: Porthole Players