Cast call for "House of Cards" Season 6
Casting directors with Marinella Hume Casting in the Baltimore Maryland area are currently casting paid background actors and extras for new episodes of the political drama "House of Cards."  Since the Kevin Spacey scandal, the future of the popular Netflix political drama has bee in limbo, but, it seems that production of the show will go on and there are new casting calls out for the month of March 2018 and beyond.
According to a recent post on Deadline, Season 6 of "House of Cards" is a go and this season will go on without the show's main character, Oscar winner, Kevin Spacey.  "House of Cards" season 6 began filming this month and production will continue through the winter and spring of 2018. The Deadline story states that Netflix confirmed that its popular political drama House of Cards will have a sixth season. Netflix also stated that the new season will see Robin Wright take the lead.
Following the sexual misconduct scandal this past fall, Netflix suspended production at the end of October leaving the future of the popular series in limbo.  Spacey remains suspended from the show and current fans of "House of Cards" are anxiously awaiting to see how Spacey's character, Frank Underwood, meets his end.
The show's new season is filming around the Maryland area and the production is in need of various types for an upcoming episode. MHC is now casting local talent, please see the casting notice below for all the role details and specific dates talent will be working as paid extras.
For the show's first 5 seasons, the show revolved around  a scheming politician,  Frank Underwood (Kevin Spacey) who schemes and blackmails his way to the political top spot of President. Kevin Spacey's character, Frank Underwood is joined by his equally conniving wife, played by Robin Wright.
"House of Cards" is based on a BBC show of the same name and is produced by David Fincher, Kevin Spacey, Joshua Donen, Beau Willimon, Eric Roth, Michael Dobbs, Dana Brunetti, and Andrew Davies. "House of Cards" fans can expect to binge watch season 5 next spring when it premieres on Netflix.
Interested in being an extra on the show? Read on for all the info.
Please note that you must be local to the Baltimore area in order to be considered for any of the roles.
Casting paid extras in Baltimore on "House of Cards"
Open casting call coming up for House of Cards on April 23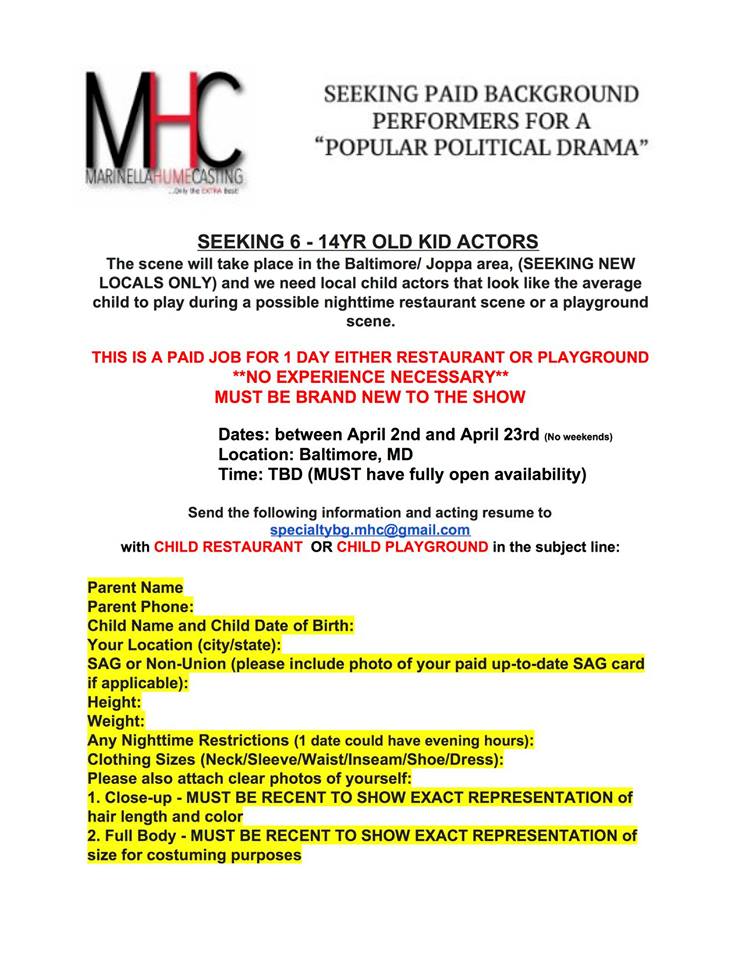 SEEKING FEMALES TO PORTRAY POWERFUL WOMEN IN POLITICS FOR OUR NEXT EPISODE
Looking for like types to represent the kind of women in photos.
Age Range 40s-60s Every Ethnicity Encouraged to Submit
*FRESH FACES ONLY*
FRESH FACES: This means you have never been able to see yourself in a previously released season 1-5 of the "Popular Political Drama" filming in Baltimore.
This also means you have not worked on the "Popular Political Drama" filming in Baltimore since January 2018 as anything specific placed next to a speaking actor or a featured role where we filmed you on camera doing something or have worked 2 or more times already this year.
*SPECIAL CIRCUMSTANCE* If you HAVE worked previously as a Senator, Governor, Judicial, Political types in the past- You may still be considered for this role, but NEED to let us know what you have been.
MANDATORY FITTING DATE: FRIDAY, APRIL 13TH
SHOOTING DATE: MONDAY, APRIL 16th
Location: Joppa, MD
Time: TBD (for both dates)
Subject Line: GIRL POWER 4/13 & 4/16
It is VERY IMPORTANT to answer EVERYTHING exactly or your submissions will start being deleted for missing info.
Email: mhc.drama@gmail.com
Legal Name on ID:
Legal ID to work in the US?:
Cellphone:
Home Phone:
Location (city/state):
Age Range:
Are you legally at least 18 years old?:
SAG or Non-Union (please include SAG# and photo of your paid up-to-date SAG card if applicable):
Height:
Weight:
Clothing Sizes Women: (Dress/Bust x Waist x Hips/ Shirt/ Pants/ Shoe:
Tattoos (if any, please list locations):
Do you have a profile on Marinella Hume Casting Database?:
EXTREMELY IMPORTANT DETAILS NEEDED:
-Have you worked on the show before & what roles were you cast as?
-Were you seen on camera?:
Please attach clear and in focused photos of yourself:
1. Close-up – MUST BE CURRENT- No Outdated Photos that do not represent what you currently look like; including hair/facial hair length and color.
2. Full Body – MUST BE CURRENT- No Outdated Photos that do not represent what you currently look like; including hair/facial hair length and color.
(If you own multiple wigs- please send photos of you in all choices available for working on set)
*SAG SUBMISSIONS PLEASE SEND AFOREMENTIONED TO sag.mhc@gmail.com