2nd Annual Spooky One-Act Play Festival
Location: Buffalo, NY
Type: Theater
September 6th – 7th
University Heights Community Laboratory
9 West Northrup Place
Buffalo, NY 14214
-No monologues required. You will be provided with sides.
-If cast, you will responsible for 2-3 roles. You must be available on the evenings of October 23-26.
-Email greenbuffaloproductions@gmail.com with the subject line "Spooky Auditions" to secure your time slot
-?Attach your headshot (or a nice selfie), resume (or list of work), and your availability September-October.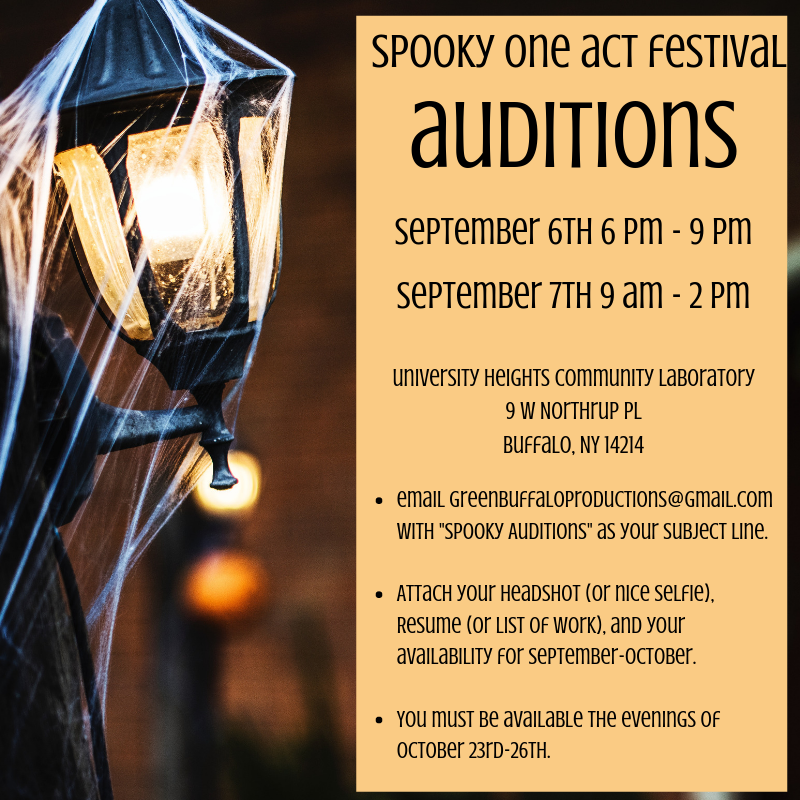 PLAY SYNOPSES:
The Importance of Filing
Emily Bystrak
dir. Emma Tryon
Two people find themselves the unsuspecting victims of both a masked murderer and poor business acumen. Unnamed protagonists are restrained in a psycho-killer's dungeon as they contemplate what's going to happen to them, and why they've been stuck there for so long. A campy, cautionary tale about the importance of a good business manager.
When the Skeletons in our Closets Choke on Candy Corn
Justin Karcher
dir. Zack Hatrick
Two best friends flee a Halloween house party in order to bury candy corn in the backyard. For Sam, burying the candy corn represents a burial of nostalgia. For Mike, he just wants to get laid, but to do that, he must stop the candy corn funeral at all costs.
Ghosted
Scott Seifritz
dir. Leyla Gentil
After an unfortunate mix up with his Uber ride, Chad ends up spending his evening with a receptionist named Miriam instead of the hot date he had planned. Suffice it to say, he is displeased with the situation. If he could only convince Miriam and her boss, Boris, to let him leave… ??
The Ghost of Avon
David Goddard
dir. Zack Hatrick
A playwright reviews their latest masterpiece when suddenly, they're interrupted by a certain theatrical celebrity to help him find fresh inspiration.
?
What's in the Box
Justin Pope
dir. Leyla Gentil
Carol's a really nice girl- Fred's crushing on her pretty hard. But today, she's jumpy, cryptic, and a little negative. It's up to Fred to find out what's wrong with Carol, but perhaps more importantly, what's in the box?
Payment: Non Paid
City or Location of call: Buffalo, NY
Please submit to: greenbuffaloproductions@gmail.com by 2019-09-06
This casting notice was posted by: Green Buffalo Productions