The new season of "Relative Race" is now casting for 2022.
Are you looking for your biological family members?  If so, Relative Race is now casting for a new season.
Were you adopted and now looking to connect with your biological family?  The show and its casting directors are now searching for adoptees and others who are looking for their families.  The reality show takes those looking for family and puts them on a 10 day journey.  At stake, is a $50k prize, plus, the discovery of new relatives and a cross country adventure.
The very unique show premiered in 2016. Relative Race uses the contestant's DNA as a road map and is a genealogy-based reality, competition show. The show about meeting family they have never met before and teams compete in challenges, to meet their long lost relatives with the help of the show and DNA.  You may check out more information about the show on their IMDB page.
Are you an adoptee looking for family? Let Relative Race help you find them! We are casting for a new season.
We are interviewing select candidates ASAP to discover if we can help them locate and meet their biological relatives. We are looking for people who are an ADOPTEE or someone looking to meet their BIOLOGICAL FAMILY to appear on the award winning reality TV show, Relative Race.
Relative Race is a TV show unlike any other. Four teams take a 10-day journey across the country to discover new relatives and compete for a $50,000 grand prize.
WHAT IS IT LIKE ON THE SHOW?
Below are links to watch some of the contestants' experiences from Season 8:
https://fb.watch/9DzF501clr/
https://fb.watch/9EJYSv2c6m/
https://fb.watch/9E-RqxP5ip/
ABOUT THE SHOW:
Here is a link to a two-minute video that briefly explains what Relative Race is:
https://vimeo.com/manage/videos/655448778/a1ceccc5e7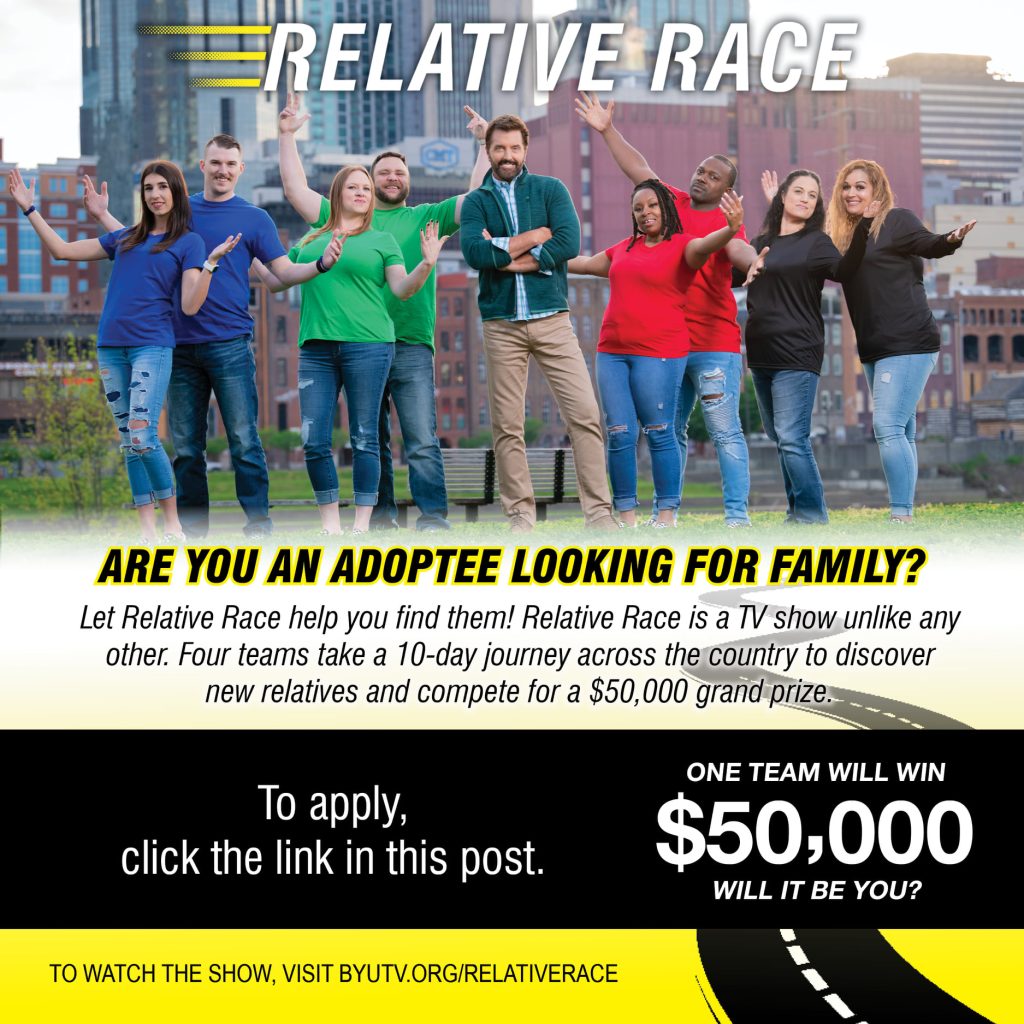 WATCH THE SHOW:
If you'd like to watch past seasons of Relative Race, you can do that here: www.byutv.org/relativerace
MORE ABOUT THE SHOW & CASTING PROCESS:
After a preliminary interview process, if moved forward with casting, we will have you do a complementary DNA test and we will then begin genealogy work. If chosen to go on the show, contestants will go on a 10-day journey across the U.S. to discover their biological relatives with a teammate. The teammate can be a spouse, sibling, parent, child, aunt, uncle, or other family member.
EXPENSES & PAY RATE:
All travel, meals, and lodging expenses are paid and there is a daily paid rate of $500 per contestant for each day continued in the race (tentative September 2021). All teammates must be available for 14 consecutive days for the shoot. One team will win $50,000.
SHOOT DATES:
This is tentatively set for May 2021 or September 2021 but TBD.
ELIGIBILITY:
You must live in the USA. You must have a valid driver's license and no DUIs in the past 5 years. You must be looking for immediate biological family members.
Email relativeracecasting@gmail.com with questions, or apply now using the Google form https://forms.gle/9yBm8LRBgehh5mCA6.
We can't wait to meet you and find out who we can help this season to meet their biological family.
TO APPLY
If interested, please apply with the Google form https://forms.gle/9yBm8LRBgehh5mCA6 or email us relativeracecasting@gmail.com
Email relativeracecasting@gmail.com with any questions.