Auditions for the Tyler Junior College Academy of Dance's 35th annual presentation of Tchaikovsky's classic ballet, "The Nutcracker."
Auditions for the 35th edition of TJC's "The Nutcracker" ballet are scheduled for Saturday, September 9th, at the Ornelas Center for Band, Apache Belles & Dance on TJC's central campus.
The ballet performances are planned for two weekends, taking place on Fridays through Sundays, from December 1st to 3rd and December 8th to 10th, at Wise Auditorium within the Rogers Palmer Performing Arts Center.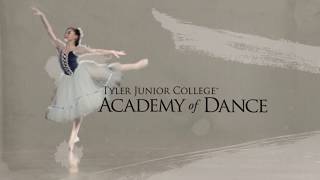 Audition details
TJC's annual "Nutcracker" is a large-scale production with more than 150 roles to fill. Roles are available for performers ages 6 through adult. Performers must be able to rehearse every Friday or Saturday and perform in every show.
Nutcracker auditions set Sept. 9 at Tyler Junior College
All performances will be held in Wise Auditorium, located in the Rogers Palmer Performing Arts Center on the TJC central campus.
Audition times:
• 10-10:45 a.m.: Girls ages 6-8 (must be age 6 by the audition date)
• 11-11:30 a.m.: Boys of all ages
• 11:45 a.m.-1 p.m.: Girls ages 9-11
• 1-1:45 p.m.: Dancers invited to audition for the leading role of Clara
• 2-3:45 p.m.: Girls ages 12 and up (girls may be asked to dance en pointe)
• 4-4:30 p.m.: Adults and actors interested in party scene
Those auditioning should arrive at least 15 minutes before their audition time for paperwork and warming up.
For more information, contact Carolyn Hanna at 903-510-2483 or by email at chan3@tjc.edu.