Casting FUNNY people for FUNNIEST WINS on TBS
Location: nationwide
Type: Reality TV
We are launching a new comedy series for TBS called FUNNIEST WINS to find America's funniest person. Hosted by comedian Marlon Wayans, FUNNIEST WINS is looking for anyone who's funny … period.
If you're making comedy videos in your dorm room, performing stand up, have your own Youtube channel, building a following on Vine or crack up your family around the dinner table, we want to know about you.
Selected contestants will have the opportunity to show their diversity as performers in genres ranging from improv, digital shorts, stand up, musical video spoofs, and sketch just to name a few. If you think you're America's funniest person, FUNNIEST WINS wants to hear from you. You can contact FUNNIEST WINS at [email protected] or apply online at www.funniestwinscasting.com.
We look forward to seeing your stuff!
Payment: Other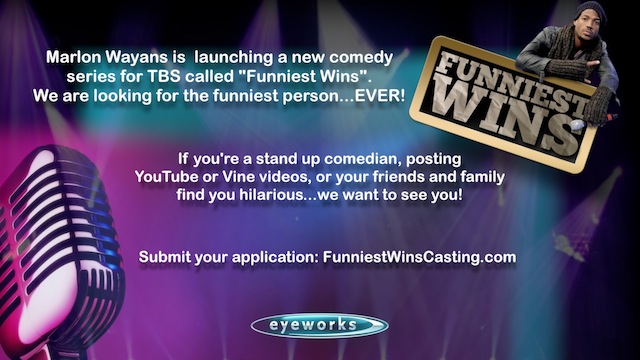 City or Location of call: nationwide
Please submit to: [email protected]
This casting notice was posted by: Andrew Ward