Models for Pageant of the Masters "Living Art" exhibit in the OC
If you would love to model exquisite costumes on a grand stage… here is your chance.
Every year a stunning exhibit of "living pictures" comes to the OC and model auditions are being held this month for Pageant of the Masters 2017.  The life sized art exhibits feature classic paintings from the masters re-created with costumed models doing the ultimate mannequin challenge. The show is looking for volunteer models of all types and ages who… can stand still for 90 seconds or more. The Pageant of the Masters, living pictures exhibit is a part of the annual Laguna Beach Festival of the Arts which is held every summer.  The 2017 Festival of the Arts will take place July 7th through August 31st.
The Orange County event is one of the world's most famous living art exhibits and attracts attracts spectators from around the globe and here is a chance to get into the act. The Laguna Beach event is holding auditions this weekend.  The 2017 theme is called "A Grand Tour"  and will re-create works of art with a travel theme. Auditions are being held Friday, Jan. 6th, Saturday, Jan. 7th, and Sunday, Jan. 8th.
No acting or theater experience is necessary and models cast for the show do it on a volunteer basis… yep, there is no pay. Also, the show is looking for models that are local to the area as they must be available for nightly shows for a few weeks straight. For those that may have some community service they need to do, volunteering to be in the show will be counted as community service credit.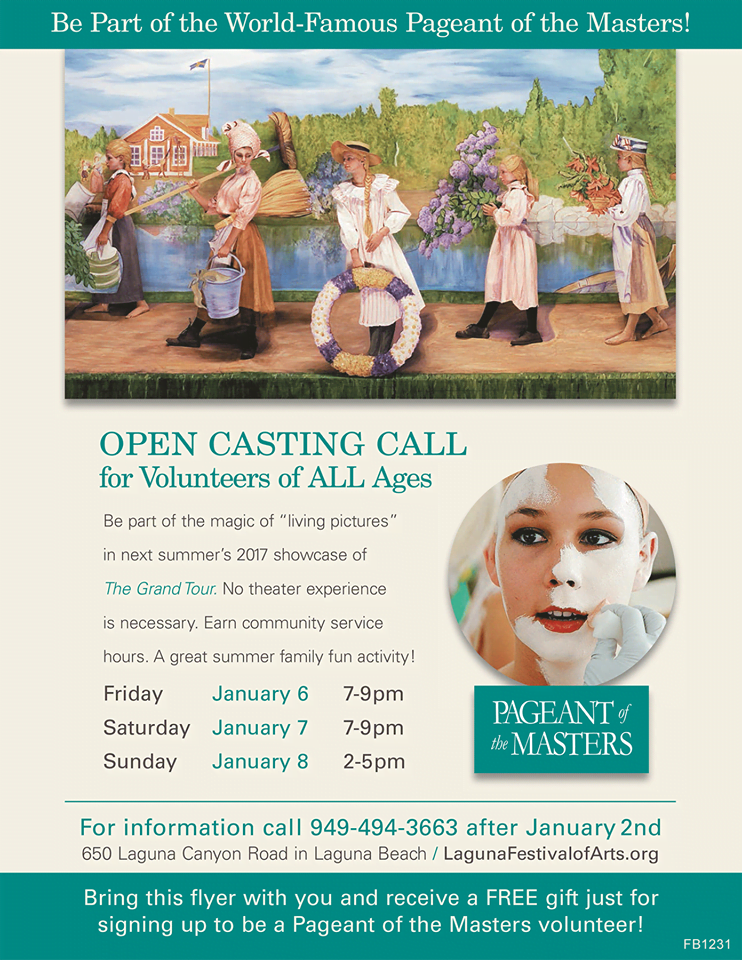 About the Pageant of the Masters
The Pageant of the Masters is the Festival of Arts' crowning jewel and arguably one of the most unique productions in the entire world.
On each evening of the Festival of Arts summer schedule, ticket holders are amazed and enchanted by ninety minutes of tableaux vivants (living pictures), incredibly faithful re­creations of classical and contemporary works of art, with real people posing to look exactly like their counterparts in the original pieces.
An outdoor amphitheater, professional orchestra, original score, live narration, intricate sets, sophisticated lighting, expert staff and hundreds of dedicated volunteers have won recognition for the Pageant of the Masters as the best presentation of its kind.
Additionally, the event is looking for non-model volunteers. Volunteers are also needed for positions in the wardrobe, make up, and headdress departments.
Open casting call for the Pageant of the Masters. Come on down next weekend to sign up, get measured, meet our creative staff and get a sneak peek of the 2017 show! Volunteers of all ages needed!
A glimpse at the Laguna Beach Festival of Arts and its crowning jewel, the Pageant of the Masters.