90 Day Fiance is holding a casting call.
The show is looking for long distance relationships. Are you engaged to someone who is out of the country and awaiting that wedding day? If so, the producers of the hit TV show "90 Day Fiance" may want to hear your love story.
The TLC show is coming back for a 2019 season and now casting couples with some location issues.   Please note that the show is only casting for those in the US who have a fiance that is in another country and working on getting to the United States for the wedding.
The show will be holding online auditions / castings for those who fit the description.
Read on for the details:
If the above sounds like you, yet you have never seen the show, check out the below description…
Long-distance relationships have challenges that are sometimes difficult to overcome but consider if the distance traveled was halfway around the world and a couple had just 90 days to decide whether the courtship should conclude with marriage. That's the situation facing the men and women profiled in this series, which shares the complexities of international romances. Using a visa that allows foreign fiancees of American citizens to travel to the U.S., the men and women experience life in the States with their prospective mates for the first time. Culture and language barriers must be overcome — not to mention the stigma of being thought of as mail-order spouses — but here's the elephant in the room: The couples must marry before the visas expire in 90 days, or else the visitors have to immediately return to their countries. With the clock ticking, these couples discover if their "happily ever after" is meant to be.
NOW CASTING: Season 7 of 90 Day Fiancé
Looking for couples who are in the K-1 visa process and want to share their love story. Cameras will follow couples from their arrival in the U.S. through their wedding day.
All ages, ethnicities, genders, and sexual orientations are encouraged to apply. The international partner should be planning to arrive in the U.S. before summer 2019.
Email: K1ShowCasting@gmail.com with your personal story, current K-1 status and expected U.S. arrival date, and a few recent photos of you and your fiancé.
**YOU MUST BE IN A RELATIONSHIP TO PARTICIPATE. This is not a matchmaking series.**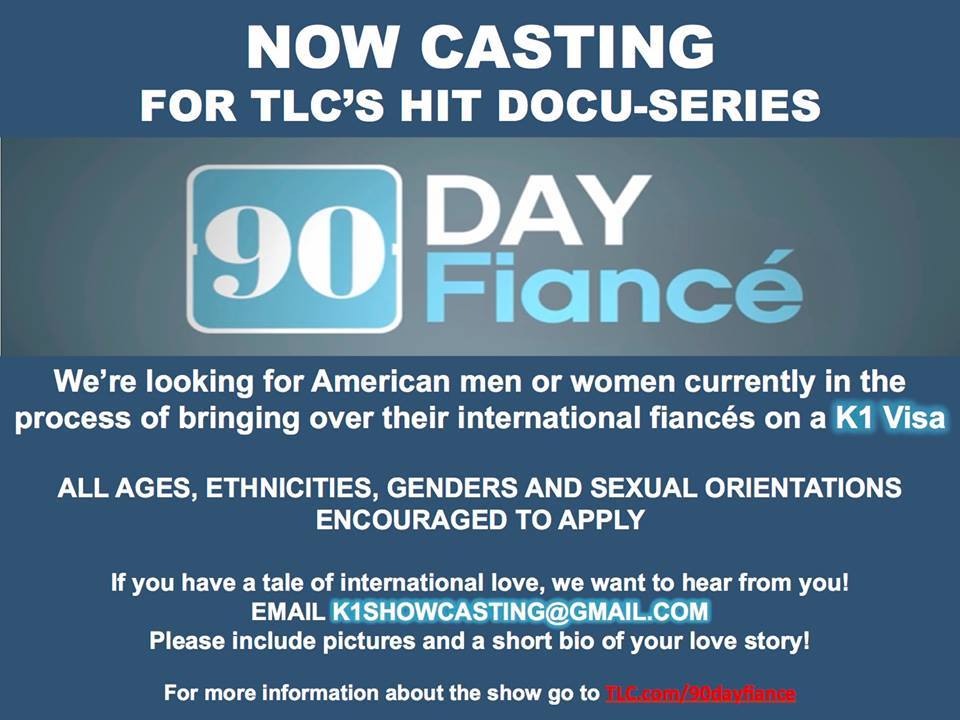 Here is a clip from the show: