14th annual One Act Play Festival
Location: Providence, RI
Type: Theater
Artists' Exchange's 14th annual One Act Play Festival
Performed July 11-27, 2019
Audition Dates/Times/Location:
Saturday, May 18 @ 1:30-4:30pm
Monday, May 20 @ 6-9pm
Wednesday, May 22 @ 6-9pm
Location: Artists' Exchange, Black Box Theatre (50 Rolfe Square, Cranston, RI 02910)
*NOTE: Tentative date for Callbacks is Thursday, May 23 @ 6-8pm
Seeking Community Actors: Open to actors of all abilities and acting experience, ages (10+). Majority of roles are for late teens and adults; limited roles for children/youth. Artists' Exchange is a nurturing, safe, and collaborative environment for young and veteran actors to grow and have fun onstage and behind-the-scenes.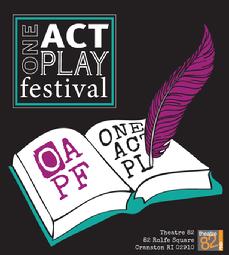 Audition Details: Prepare a one-minute maximum monologue; singers can also sing a cappella if desired. Bring a headshot and resume. You may be asked to do cold readings from provided scripts.
Reserve an Audition: Slots are 10 minutes per person. Email Jessica Chace at jessica.chace@artists-exchange.org with your first and second slot preferences. You will receive confirmation of your scheduled date and time.
About the 14th annual One Act Play Festival:
Original short plays are selected for performance from over a thousand of submissions from local, regional, national, and international playwrights. Comedies, dramas, farce, and more combine for three weeks of summer theater at its best. Directors include Jessica Chace, Tom Chace, and Rhiannon Annin.
Festival will be performed for three (3) consecutive weekends, July 11-27, 2019. Shows are Thursdays, Fridays, and Saturdays at 7pm. Potential for two (2) private "Corporate Night" performances on July 17 & July 24, both Wednesdays. Rehearsal period is the end of May thru July 5 with a flexible rehearsal schedule. Tech week is mandatory, July 6-10 (Sat-Wed); pre-approved conflict possible on a case-by-case basis.
About Artists' Exchange:
Proudly owned and operated by Gateways to Change, Inc., Artists' Exchange is a non-profit arts collaborative whose mission is to create an atmosphere in which creativity, learning and discovery converge and individuality is celebrated. Home to multiple art studios, a gallery, art boutique and café, and a secondary venue, Theatre 82 & Café is a multi-use performance, meeting and instructional space. Character's Café serves a full breakfast and lunch menu, fresh coffee, craft beer & wine, and live Jazz Music on Sundays!
Contact Information:
Jessica Chace, Festival Artistic Director
jessica.chace@artists-exchange.org |401-451-8196
Payment: Non Paid
City or Location of call: Providence, RI
Please submit to: jessica.chace@artists-exchange.org by 2019-05-17
This casting notice was posted by: Artists' Exchange