Brighton Beach Memoirs
Location: The Library Wine Bar and Bistro, Wallingford, CT
Type: Theater
Auditions will be held at The Library Wine Bar and Bistro in Wallingford on Tuesday, January 26th and Wednesday, January 27th at 7:00 P.M.
The cast includes the following roles:
Eugene Morris Jerome – A normal 15 year old boy who has recently discovered girls in a BIG way.
Stanley Jerome – 18-21 years old – He is the older brother of Eugene. Due to financial reasons, must work a factory job, which he hates.
Jack Jerome – late 40's – Father of the Jerome family who feels the pressure of supporting an extended family by working two jobs.
Kate Jerome – mid 40's – She is the very strong mother who attempts to hold the family together and solve the hurts and problems of all of them. She is opinionated and very verbal, but also very loving.
Aunt Blanche – early 40's – She is Kate's younger sister, recently widowed, very indecisive, and dependent. She wants to have a life for herself and her daughters, but she does not know how or where to begin.
Nora – daughter of Blanche, Cousin to the Jerome boys – She is a very beautiful and ambitious 16 year old girl with dreams of Broadway. She is often resentful of her younger sister who is pampered due to heart flutters.
Laurie – daughter of Blanche, Cousin to the Jerome boys- She is a studious, yet quietly mischievous, 13 year old who is all ears around the adult situations.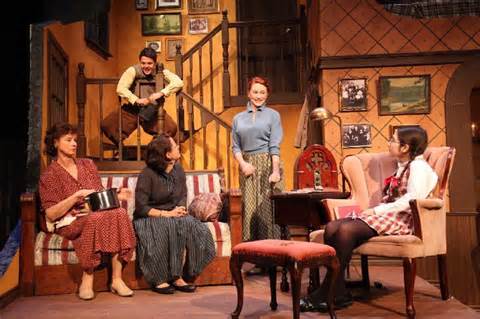 Production dates are March 31, April 1, and April 2, 2016 at The Library Wine Bar and Bistro. Rehearsals are as assigned on Tuesdays, Wednesdays and Thursdays.
Payment: Non Paid
City or Location of call: The Library Wine Bar and Bistro, Wallingford, CT
Please submit to: wlfdcommtheatre@att.net by 2016-01-25
This casting notice was posted by: Wallingford Community Repertory Theatre