The Food Network is bringing back WORST COOKS IN AMERICA for a new season.
Are you the worst cook in America? Do you struggle with scrambled eggs, destroy instant mashed potatoes, or burn anything you attempt to cook?
If you do, this show may be looking for you because they are casting for 'The Worst Cooks in America'.  Season 9 is on its way to a new cast which may include you.
Food Network is looking for the most disastrous home cooks in the US to participate in a very different culinary competition show! Bobby Flay and Anne Burrell are coming back for the 2014 / 2015 season of the show and they will be leading teams of horrible home cooks through a cooking bootcamp on the Food Network. The competition will be fierce as the Worst Cooks in America try to make an edible meal in an attempt to cook their way to the end of the competition and win the cash prize. Have you always wanted to turn your usual sad meals into culinary triumphs? This may be the pair of chefs who can help you do just that and maybe even win $25,000 on the show.
Amber Brauner who won $25,000 some seasons back thanked her culinary mentors and judges for showing her the way with this awesome quote….  "Thank you for eating my food — nobody ever did before." – Amber Brauner. If you also thank people for eating your food, this may be the perfect opportunity for you because Casting Duo and the Food Network are casting the teams for season 6 of  Worst Cook in America.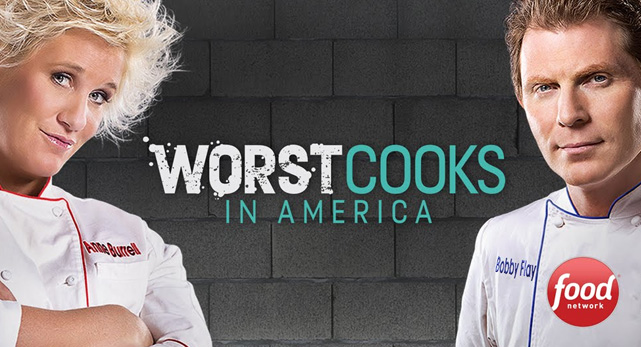 NOMINATE YOURSELF or you can nominate SOME OTHER horrible cook you may know in America.
Has your wife told you it was probably better if you ordered take out?
At the big potluck dinner, are you always asked to "just bring the napkins?"
Alternatively, if you KNOW of someone who fits this bill, we're also accepting nominations – send them our way!
This is the opportunity of a lifetime to work with the best chefs in the country and learn to cook like a professional.
Seeking people with a genuine inability to cook, but a need and desire to improve! An opportunity to learn from of some of the Food Network's biggest stars and potentially win $25K? I mean honestly, what could be more fun?
If you are ready to apply for the show or have a "worst cook in America" to nominate, see this page for all the details and the online application form.
A spin-off is also in the works. Food Network is also casting for their new show, "Worst Bakers in America." See "Worst Bakers in America" is Now Casting Nationwide.