The Netflix show "Mindhunter" has a casting call out.
The Netflix production of "Mindhunter" is in the Pittsburgh area filming another season of the thriller and area locals are able to make some extra cash by working as paid background actors.
No experience necessary to work as an extra and those interested need to be able to hang out on set all day.
David Fincher's hour long drama is described to be ripped from the real-life files of the FBI, "Mindhunter" is the story of the first FBI agents to try to get inside the minds of serial killers. Mindhunter stars Jonathan Groff, Holt McCallany and Anna Torv.
Mindhunter is filming in Pittsburgh now and will be in production through December 2018. Mindhunter premiered in October of last year.
The show's casting directors are looking to cast extras of all types & ages. Since these are casting for paid extras roles, you must actually live in the Pittsburgh area in order to be considered.  Paid extras make about minimum wage and work on an hourly basis.  Travel is not paid, which is why you must be local.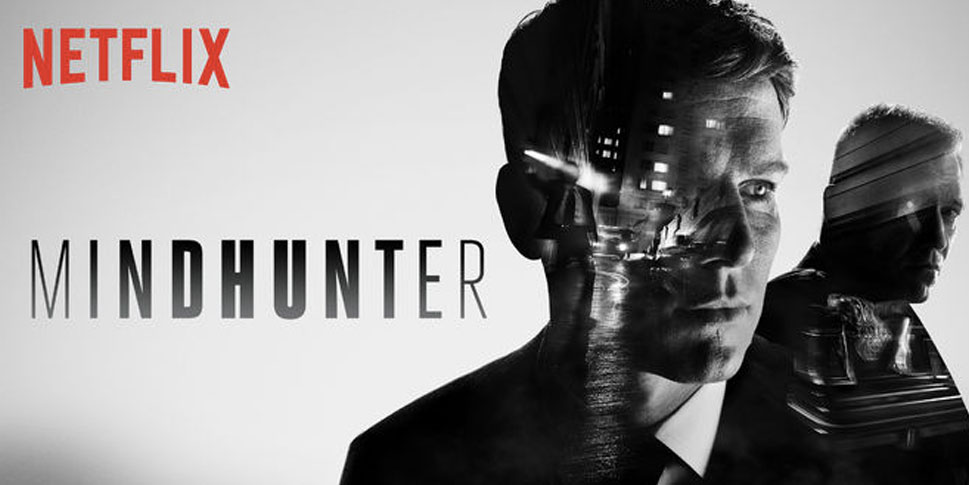 Those interested in a small, non speaking, extras role, may see this page for all the details.
"Mindhunter" dives into the minds of the criminals they are tracking to create psychological profiles to help solve the cases. The show  is based on the 1996 book  Mind Hunter: Inside the FBI's Elite Serial Crime Unit by John Douglas and Mark Olshanker. John Douglas spent decades developing criminal-profiling techniques for the FBI and teamed with writer Olshanker for the story of his 25-year career tracking down serial killers.
Catching a criminal often requires the authorities to get inside the villain's mind to figure out how he thinks. That's the job of FBI agents Holden Ford and Bill Tench. They attempt to understand and catch serial killers by studying their damaged psyches. Along the way, the agents pioneer the development of modern serial-killer profiling. The crime drama has a strong pedigree behind the camera, with Oscar-nominated director David Fincher and Oscar-winning actress Charlize Theron among the show's executive producers.
There is also an open call for the show in Pittsburgh at the Job Fair!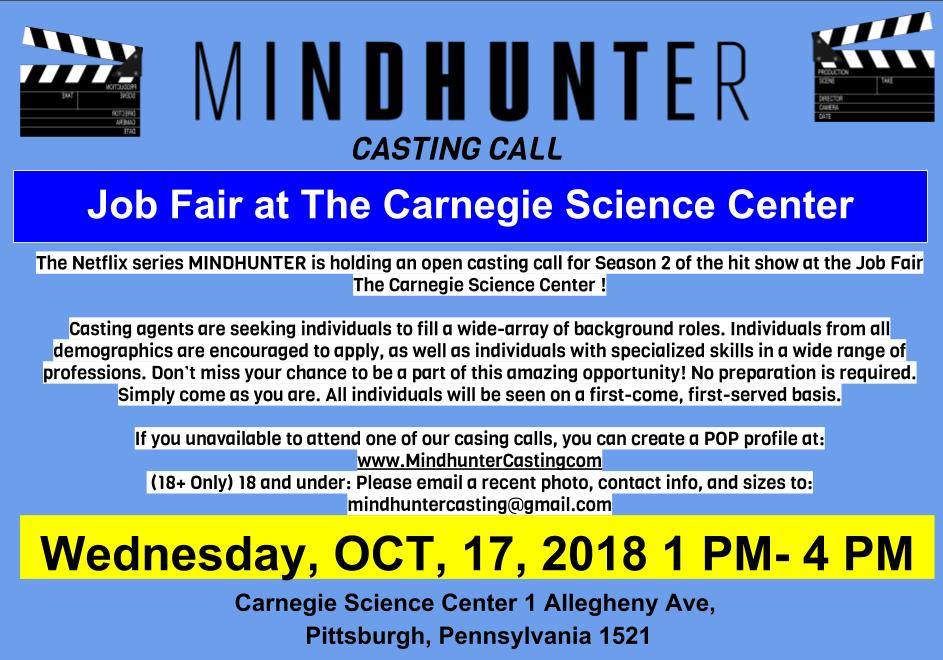 NOW CASTING for MINDHUNTER, Season 2:
Seeking Men to portray media techs on Oct. 18.
(Must not have worked on the series yet.)
All roles are PAID $80/8hrs and time an a half after that, plus a $40 stipend for the wardrobe fitting in Cranberry Twp.
*Please no modern hair cuts (year is 1979)
*No visible tattoos in short sleeve shirts
Submit to mindhuntercasting@gmail.com with current photos & Info. Please put "TECH" in the subject line.
Name:
Number:
Height:
Weight:
Shirt:
Pants:
Shoes:
Again, see this page for all the details.