Acting Job in multiple US cities for Halloween Event.
Haunted Soiree is coming to 7 different cities this year!
Los Angeles, Seattle, Dallas, Chicago, Nashville, New York, and Washington DC.
The "Haunted Soiree" is an annual Halloween event that has become a highly anticipated tradition in our community. This spine-tingling soirée is more than just your typical Halloween party; it's an immersive experience that transports attendees into a world of eerie enchantment and ghostly delights.
For those with an adventurous spirit, there are interactive experiences like haunted mazes and escape rooms, where participants must solve puzzles and navigate through haunted scenarios to make their way out. And, of course, no Halloween event would be complete without a delectable spread of spooky-themed food and drinks to keep guests fueled and refreshed.
Guests are welcomed into a transformed venue that exudes an atmosphere of mystery and suspense. Dimly lit corridors lead the way to various themed rooms, each with its own unique, hair-raising surprises. From haunted mansions to creepy forests and abandoned asylums, "Haunted Soiree" spares no effort in creating a truly immersive haunted environment.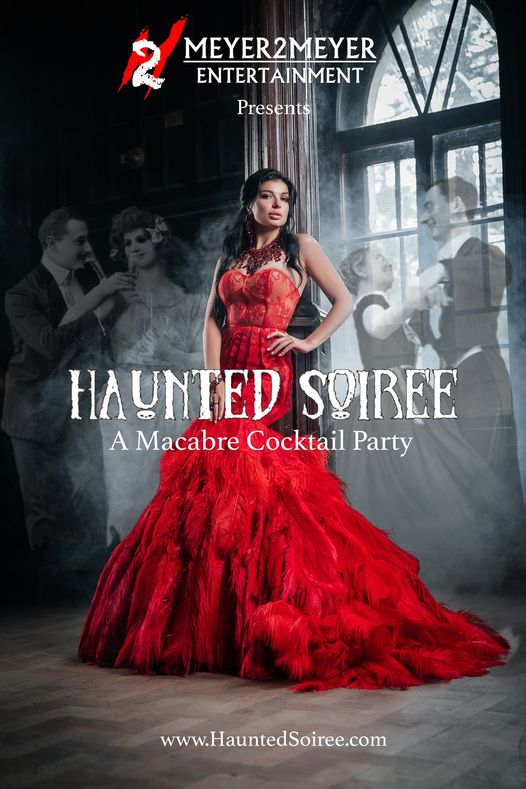 Now casting:
If you are interested and have any experience with scare acting or costume/mascot work, we want to hear from you.
Currently casting scare actors and creature suit performers in all cities.
SCARE ACTORS and MASCOT PERFORMERS
HAUNTED SOIREE: SEATTLE
www.hauntedsoiree.com
Approximately Sept 18th-Oct 31st
Non Union paid gig
$20-$22/hour
Step inside the Haunted Soiree — a macabre cocktail party that is unlike any other party in town! Freely roam a mysterious mansion and experience a night of themed cocktails, macabre magic, sinister séances, tarot readings, strange roaming specters, live music, hidden secret games, giant Ouija boards and so much more!
Haunted Soiree Seattle is now accepting SUBMISSIONS for SCARE ACTORS and MASCOT PERFORMERS!
Send submissions to casting@meyer2meyer.com
Location: Rainier Chapter House, 800 E Roy St, Seattle, WA 98102
Non Union but paid gig
$20-$22.hour
Please Include the Following:
Name: Your Name
Subject: Haunted Soiree – YOUR CITY OF INTEREST
PLEASE ATTACH A HEADSHOT with RESUME
MASCOT: Ideal candidates will be 6'1" +. Ideal candidates will be comfortable in full costume, masks, as they will be wearing full Hollywood style Creature suits. Movement skills are a plus.
Scare Actors: Ideal candidates will be comfortable working in the dark, wearing masks, creature suits and have the stamina to scare all night long!
AUDITION VIDEO: Please record a short example of you moving through the space with a "predatory animal" in mind. Have this character stalking a victim, then slowly evolve that character out of animal and show me what this character would be like as a human being. Try to avoid using words to express yourself, but feel free to make sound.
Other Cities:
Currently casting scare actors and creature suit performers in all cities.
Please email me at Casting@meyer2meyer.com and don't forget to tell me what city you are local to.
This in a non union but paid gig.
$18-$22 per hour depending on what role and city.
See: https://hauntedsoiree.com/