CBS Survivor is coming to the Los Angeles area to find contestants for the long running reality series.
Do you have what it takes to to make it to the end of Survivor and win the $1,000,000?
Survivor takes a group of strangers and drops them off at a remote location. The group is split up into 2 tribes which battle each other in various physical and mental challenges. Each week the losing tribe votes someone off until the 2 groups merge, more people are voted off and eventually one contestant will get crowned the lone survivor and claim the prize of 1 million dollars!
Raging Waters in San Dimas California will be sponsoring an open casting call for Survivor. The audition will be filmed and then submitted to casting directors for the show. Below, you can check out the types of questions you will need to answer during the taping in order to be considered.
CBS 2 and Raging Waters, San Dimas want to know WHO YOU ARE and WHY WOULD YOU MAKE THE ULTIMATE SURVIVOR…it's time for the Survivor Open Call!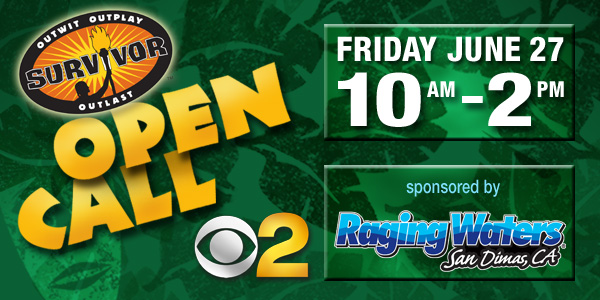 SURVIVOR  Open Call Los Angeles – June 27, 2014
What to expect:
Participants will discuss who they are and why they would make the next ultimate Survivor for up to 1 minute on-camera. CBS 2 will submit all eligible on-camera entries. NO APPLICATIONS NEEDED, ONLY ON-CAMERA AUDITION NEEDED FOR SUBMISSION AT OPEN CALL. Must be present to apply
Questions to think about for your audition:
• Why do you think you could win Survivor?
• If you are a fan…please tell us why?
• How do you already play Survivor in your daily life? Give examples!
• What past Survivors are you most like in real life?
Age and Citizenship Requirements:
• Contestants must be 18 years or older at the time of application.
• Contestants must be United States citizens and be living in the United States.
If you have previously applied for Survivor and you were a finalist in Los Angeles, please do not reapply.
SURVIVOR Open Call
Hosted by: KCBS-TV & Raging Waters
Date: Friday, June 27
Time: 10am – 2pm (line cut-off at 2p)
Location:
Raging Waters
111 Lakeside Rd
San Dimas, CA 91773
Parking:
All contestants are responsible for parking fees. CLICK HERE to buy parking for Survivor Casting Call
Attire: Casual