A Spring Break TV comedy is holding auditions in the Miami area to fill principal and extra roles in the show.
Miami Talent is looking to cast a variety of actors and comedians for the show that will be filming March 21st through March 28th. All roles are paid. The roles will require an in person audition and auditions are being held Tuesday, the 15th in the Miami area. Auditions will be by appointment only and interested actors and comedians must send their photos, reels and resumes in ASAP in order to be considered for an audition slot.
Miami – SpringBreak TV Comedy is looking for main actors and extras.
READ EVERYTHING PLEASE.
FOR THOSE OF YOU WHO ARE COMEDIANS AND DO STAND- UP, PLEASE MAKE A NOTE OF IT.
Pay rate above sag scale for main, extras TBD
MUST BE AVAIL ALL WORK: some roles work 1-3 days & some all week.
FOR COMEDIANS NOT ABLE TO AUDITION ON TUESDAY.
Please submit comedic reels and or footage.
Or if you have a website where we can watch some of your comedic stand up performances.
If you do not have a resume or reel but you'd like to be an extra, please note it in email.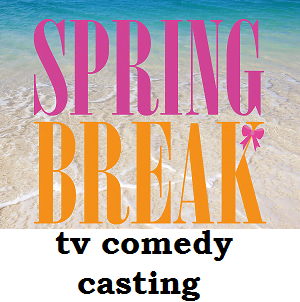 ALL OTHER ROLES ARE :
SLIM JIMMY'S LOVE INTEREST
Female / Caucasian, Hispanic / 20-30. great body, fit, model type, need whole body pics please
FEMALE HOST
Female / Caucasian, Hispanic, Ethnically Ambiguous / 20-28
Her delivery is more like a female version of Thomas Norton (Vice TV Host). Natural free flowing, lots of interaction with the people she is interviewing and with the camera.
have a little bit comedy/being funny in her delivery as well.
IVY
Female / Caucasian, Hispanic, Ethnically Ambiguous / 20-25
University student type who enjopys spring break, party girl type
blonde preferred will cast ladies with outgoing personalities
DONA ESCOPETA GIRLS
Female / African American, Caucasian, Hispanic / 20-30
Hot beautiful women with amazing bodys. More voluptuous phyiques. Think along the lines of the Instagram sensations group "TAZS ANGELS" .
DONA ESCOPETA
Female / African American, Hispanic / 30-40. Think of her as a female Hugh Hefner. She is the go to Madam during spring break.
TREVOR NORTON – MALE HOST
Male / Caucasian / 20-30
He is our host. He is our protagonist of the special because he will
be the eyes and ears of what's happening in this special.
We follow him through these crazy journey's known as spring break. Think of a type of younger host you would see on VICE TV.
THE MAYOR
Female Caucasian / 45-70. Politician/Business type looking older female with salt-n-pepper hair.
BOUNCER
Male Caucasian / 25-40
Big muscle looking dude with a body of a WWE wrestler. Intimidating looking dude. Huge build.
THE CAPTAIN
Male Caucasian / 50-65
Older man with salt-n-pepper beard. Has his pipe in his mouth.
An old school cat that love the see and living in the Marina.
Think along the lines of the Kentucky Fried Chicken Guy or old fisherman type
TOOTHPICK AKA TATS
Male Caucasian / 25-35
Harley Davidson biker looking dude – with mustache & beard
Edgy looking – with lots of visible tattoos a plus – great character face.
IRWIN – CLUB PROMOTER
Male / African American, Caucasian, Hispanic / 25-35. He is the "go to" promoter with a very comedic demeanor about him.
Clubby type person.
PASTOR HENRY
Male / Caucasian / 30-40
He is a street preacher. He is preaching to all these young crazy
spring breakers,can be a regular dude.
D. JIZZARAN
Male / Caucasian / 30-40
MUST BE A COMEDIC ACTOR
A hillbilly type with facial hair i.e. mustache and beard. Think along the lines of a cast member in Duck Dynasty and or Instrgram sensation Dan Blizerian types.
OBSESSED FAN
Female / Caucasian / 20-30 / Brunette
MUST BE A COMEDIC ACTRESS!
Cute but average looking female.
She continue to stalk them and become psycho towards the band.
RUDY DRED-FIRE MAN AKA HOT PANTS
Male / African American, Hispanic / 20-30. A COMEDIC ACTOR!
He is your local spring break drug dealer, very comical in his demeanor and delivery, Think of the movie "Half Baked" BUT…Hot Pants although comical is always sober and about business.
FLO RIDA LOOK-A-LIKE
Male / African American / 20-30
A Flo -Rida look-a-like preferably with tattoos and sunglasses like the ones he always ware. Please google who he is if needed.
Shoots March 21 – March 26
casting in person on Tuesday, March 15 from 10-8PM.
Need pics, resume, reels and contact asap to get you a slot.
miamitalentcasting@gmail
TWO NEW ROLES ADDED FOR THE SPRING BREAK COMEDY CASTING TOMORROW MARCH 15
miamitalentcasting@gmailcom
J.D. HARM Male / Caucasian / 30-38
Should be tatted up, as many tattoos as possible. Think swamp dude.
Dumb and Dumber type dude.
Rate: above scale, $300+
ERNIE GREEN Male / African American / 30-38
Think some one who looks like Cedric the Entertainer. Must be a comedic actor
Rate: above scale, $300+