NYC ONLY
CASTING REAL WOMEN AGE 45+ FOR FASHION MAKEOVER VIDEOS FOR O MAGAZINE & GOOD HOUSEKEEPING!
For Good Housekeeping:
Casting women of all types, shapes, and sizes age 45+ with a COOL OR INTERESTING STORY for a total makeover, including clothes, hair, and makeup.
We're looking for a woman who is about to embark on some kind of new undertaking, whether it's going back to school, re-entering the workforce, or becoming a grandma for the first time (any story welcome!) Looking for women with a great story and personality to match – Would prefer if the woman's family is also local in the NYC area and would be willing to be in the video and witness the transformation.
For O Magazine:
Casting women of all types, shapes, and sizes age 45+ who are in desperate need for a wardrobe makeover! Must see pics of your "bad style". Backstory less important but please send a little information over about yourself and why you are in need of wardrobe change.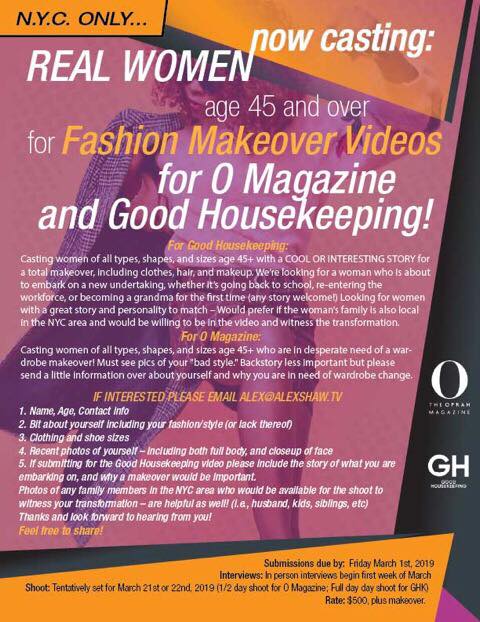 IF INTERESTED PLEASE EMAIL ALEX@ALEXSHAW.TV
1. Name, Age, Contact info
2. Bit about yourself including your fashion/style (or lack thereof)
3. Clothing and shoe sizes
4. Recent photos of yourself – including both full body, and closeup of face
5. If submitting for the Good Housekeeping video please include the story of what you are embarking on, and why a makeover would be important.
Photos of any family members in the NYC area who would be available for the shoot to witness your transformation – are helpful as well! (i.e., husband, kids, parents, siblings, etc)
Thanks and look forward to hearing from you! Feel free to share!
Submissions due by: Friday March 1st, 2019
Interviews: In person interviews begin first week of March
Shoot: Tentatively set for March 21st or 22nd, 2019 (1/2 day shoot for O Magazine; Full day day shoot for GHK)
Rate: $500, plus makeover.
IF INTERESTED PLEASE EMAIL ALEX@ALEXSHAW.TV