Temptation Island is now casting
Location: Nationwide
Type: Reality TV
To learn more about Temptation Island, click here.
IMPORTANT INFO
Couples get $2000/wk per person and all expenses paid on tropical vacation.
Shoot is about 4 weeks from early June to early July, all applicants must be available/able to take off work etc.
Couples will have LIMITED access to the outside world – like can send a few supervised emails once a week.
Must be US Citizens or Residents with Green Card.
Couples cannot be engaged or married or have kids together.
Couples need to be together at least 1.5 years but prefer at least 3 years.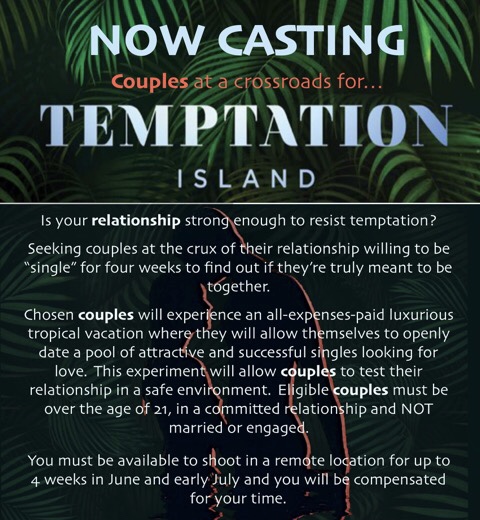 Interested? Submit your info (Full makes, ages, locations, jobs, contact phone/email, and social media links).
to TemptationIslandAW@gmail.com
Payment: Paid
City or Location of call: Nationwide
Please submit to: temptationislandaw@gmail.com by 2019-05-01
This casting notice was posted by: Tempation Island