The sequel to "Magic Mike" is filming in Savannah.
The sequel entitled "Magic Mike XXL" is looking for male stripper types to work as extras on the new Channing Tatum film. The film began production last month and should be filming into the fall. Earlier, last month, "Magic Mike XXL" held an open casting call for extras in Savannah and now they are releasing casting notices on an as needed basis. What does the film need? male stripper types of course!
In a recent interview with GQ, Channing Tatum revealed the film's plot. The sequel will be an on the road adventure. Magic Mike and his crew are hitting the stripper convention circuit (didn't know there actually was such a thing). "Magic Mike XXL" will highlight the craziness of such events and the mob mentality involved. "Magic Mike XXL" is inspired by Tatum's experiences through his teen years at… stripper conventions. The new "Magic Mike" film will focus on two such events.
In the same interview, Tatum described the event….
"The women would come from miles and miles around," – "Then you lock the doors and you say all bets are off. It gets zany and crazy, and it's a wild ride. It's an incubator for insanity. It doesn't matter almost what you do onstage. I don't want to put anything in black and white on a page, but if you've been to one, you know how crazy it gets, and now pour kerosene on that. You've seen Magic Mike – now multiply that. Mob mentality. It's just exponentially crazier. I thought it was absolutely insane."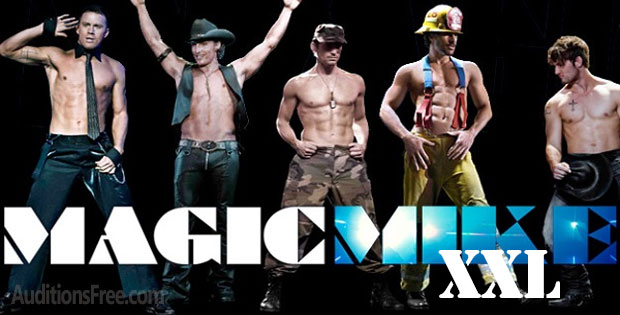 "Magic Mike" was a huge success. According to The Guardian, the film grossed $167m  and was shot on a budget of only $7m. While the retired, Steven Soderbergh will not be directing the sequel, he did announce that he is on-board in other capacities.  Helming the production is  Steven Soderbergh  production partner, Greg Jacobs. Soderbergh  will still have a large part in the production of  "Magic Mike XXL". Soderbergh will serve as the Director of Photography, camera operator and film editor. The film is written by Reid Carolin and Channing Tatum. Fans will be able to see it in the movie theaters on the 4th of July 2015.
Please only submit your information if you live in or around the Savannah area. They will not be considering any out of State talent and talent submitting should live within a 4 hour drive of the set.
Today we are looking for MALE STRIPPER types. Please read the following notes and do not submit on this call if you don't fit.
1) Can not have large tattoos!
2) Looking for great bodies
3) MUST be local to Savannah/ Georgia.
Please submit photos to MagicMikeExtras@gmail.com – Subject: Male Stripper.
We have had a number of people submit to be extras from California, Texas… Please do not waste your time or our time by submitting if you can not work in Savannah, GA. (And Myrtle Beach people, please hold off until we announce submissions for you guys… that's the end of the shoot.)
We don't have a locked schedule and we may be booking you a month in advance or a day before. I've been in casting for 23 years and very, very rarely has someone from out of state worked out for us, so I'm gun shy on casting anyone who doesn't live within a 4 hour drive.
Not local to the Savannah area? Check out other TV and Movie projects that are currently filming and casting extras.