The sequel to "Ride Along" is now filming in the Atlanta area.
Universal Pictures is now working on the Ice Cube / Kevin Hart film "Ride Along 2". The movie just began production and will be filming in both the Miami and Atlanta areas.
Last week a casting call for "Ride Along 2" was announced in the Miami area and now people in Atlanta have a chance to get into the film as well because an open casting call for background talent and extras is scheduled in Atlanta for later this month.
"Ride Along 2" will bring back Ice Cube and Kevin Hart. Both actors will reprise their previous roles as the action / comedy duo of the Atlanta cop and security guard trying to gain his respect. The new film will be directed by Tim Story, written by Phil Hay and Matt Manfredi. This time around, Ice Cube is also one of the producers on the project.
The stotyline for the sequel seems to be just like the one for the original "Ride Along" film. According to IMDB, in "Ride Along 2" security guard Ben must prove himself to his girlfriend's brother, top cop James. He rides along James on a 24-hour patrol of Atlanta.
The film will be holding an open call on the 27th and 29th of this month. Production is seeking background extras in the Atlanta area of all ethnicities between the ages of 18 and 50 to work on the film. No experience is necessary and those who want to be a part of the production can simply attend one of the 2 open casting calls to meet with casting directors for a chance to be cast in "Ride Along 2".
The film will also be shooting in the Atlanta and  Miami areas. The casting call for Miami, Florida was released last week, anyone interested can check it out here.  Atlanta residents who want a shot at this can get all the details below… see the casting call flyer.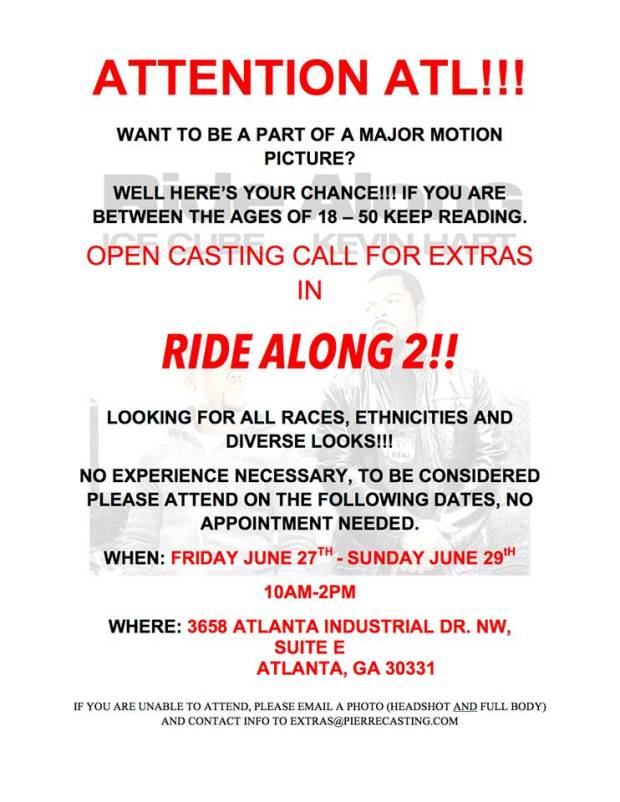 "Ride Along 2" has an official release date of Friday, January 15, 2016.