Clint Eastwood's new project "Sully" begins filming in the Atlanta area this fall and has just released a casting call.
The film is looking to cast talent of all ethnicities ages 20 to 70 for various small roles.
Tom Hanks is set to star as Captain Chesley "Sully" Sullenberger in the Warner Bros. Pictures Biopic, "Sully."    The movie is about Captain Chesley "Sully" Sullenberger ,  a US pilot who became a hero after a miraculous landing in the Hudson River.   In 2009, US Airways Flight 1549 was hit by a flock of Geese right after take-off from New York's LaGuardia Airport. Captain Chesley "Sully" Sullenberger pulled off an amazing, emergency water landing that saved the lives of all on board and stunned the nation with its images of passengers standing on the wings of a plane lying in the Hudson.
Also cast in the film are Aaron Eckhart (The Dark Knight) and Laura Linney (Mystic River, Mr. Holmes). Eckhart will play Jeff Skiles, the co-pilot on the US Airways Flight 1549. Linney will be playing Sully's wife, Lorrie Sullenberger. Laura Linney has been in three of Eastwood's films including Mystic River and the thriller Absolute. Eastwood's last biographical drama, American Sniper, was a huge hit.
Clint Eastwood is directing the film.  According to Deadline, the screenplay is written by Todd Komarnicki and is based on the book Highest Duty: My Search For What Really Matters, by Sullenberger and Jeffrey Zaslow.
The Atlanta portion of the movie will film in the 2nd part of October… October 12th through the 30th. If interested, be sure to apply ASAP as all roles are being selected by the director, Clint Eastwood and all submissions must be in by mid-September.  Talent applying must be available, in the Atlanta area, for the second part of October as filming dates are net yet known.
"Sully" is looking for background actors to play passengers, airline representatives, press, cameramen and photographers. All ethnicities are needed and talent should be between 20 and 70 tears of age. Please see the graphic below for more information about available roles.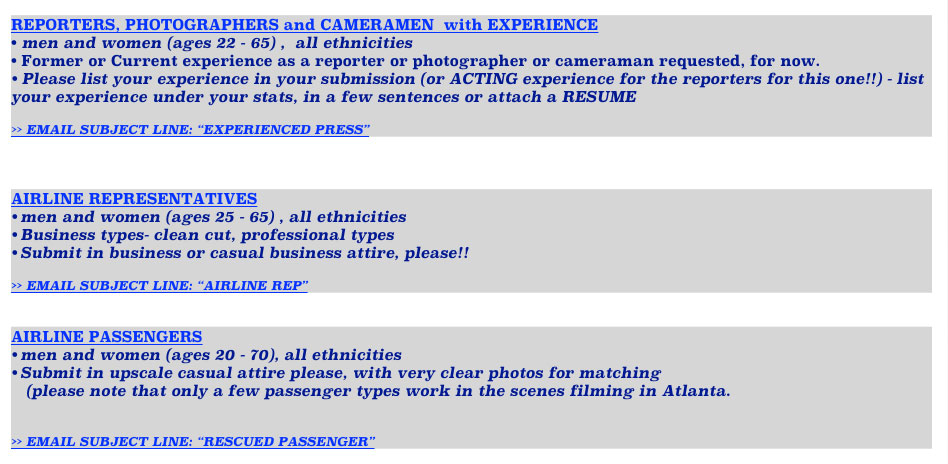 Please read the casting notice below and send submissions to sullyextras@tscasting.com