Are you looking for auditions for your dance crew?
A new cable network show may want to hear all about your group.  A new reality competition dance series is looking for teams of 5 or more in the United States that think they have the dance skills to Bring It.
The show is looking for dance styles of all kinds including Hip Hop, tap, jazz and anything else that involves a group of dancers.  Dancers do not to be pros.  The show is looking for people who dance as a group and those groups can include schools or any other group that thinks they can take on other groups and out dance them in a reality dance crew competition and one crew will be starring in their own show.  The dancers do need to be at least 18 years old and in the United States to be considered.
Interested?  Here is the casting call: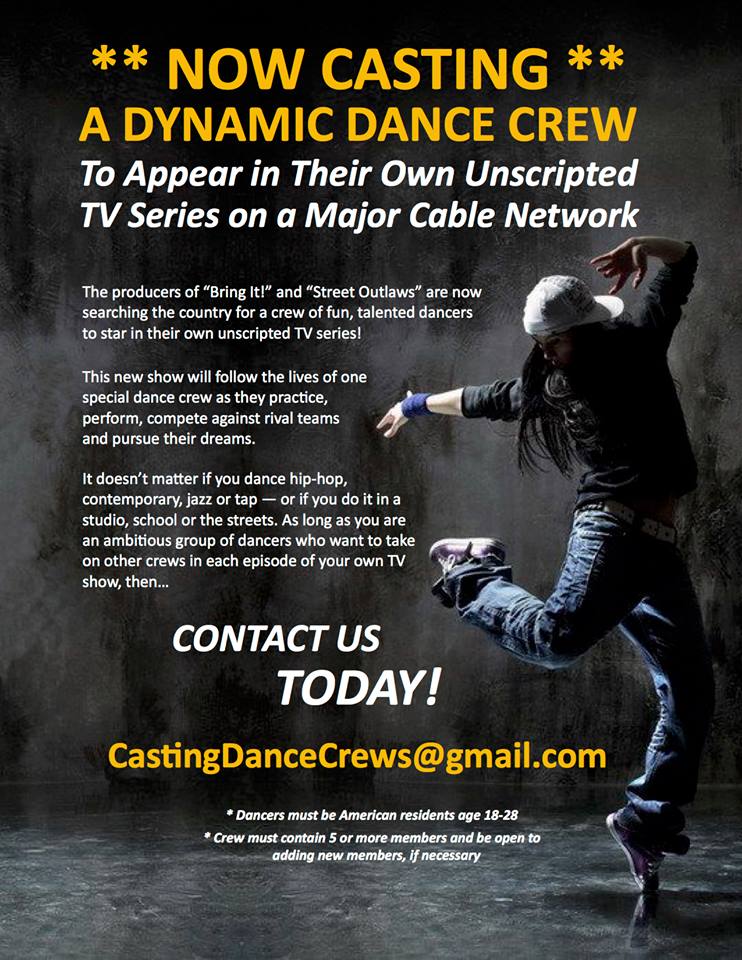 NOW SEEKING A DYNAMIC DANCE CREW TO APPEAR IN THEIR OWN UNSCRIPTED TV SERIES ON A MAJOR CABLE NETWORK
The producers of "Bring It!" and "Street Outlaws" are now searching the country for a crew of fun, talented dancers to star in their own unscripted TV series!
This new show will follow the lives of one special dance crew as they practice, perform, compete against rival dance teams and pursue their dreams.
Hip-hop, contemporary, jazz, tap… It doesn't matter what your style is or if you dance with a studio, school, or in the streets. As long as you are an ambitious group of dancers who want to take on rival crews in each episode of your own TV show, we want to hear from you!
Participants must be at least 18 years of age and legal residents of the United States.
Crew must contain 5 or more members and be open to adding new members, if necessary.
Email CastingDanceCrews@gmail.com with your name, the name of your crew, recent photos of you and your fellow dancers, and a brief explanation of why your crew is right for this show.