New project filming in the Baton Rouge, LA area called "Hitman."
The project is in production and has a casting notice out for the New Orleans and Baton Rouge area for residents that are able to fill a few paid roles in the movie. The film will be filming this fall in the New Orleans area.
Richard Linklater has cast "Top Gun: Maverick" star Glen Powell to play the role of the hitman. The movie is described as an action comedy which was inspired by an article in the Texas Monthly magazine.
OPEN CASTING CALL – NEW ORLEANS/BATON ROUGE/SURROUNDING AREAS
"HITMAN"
Directed by Richard Linklater ("Everybody wants Some!", "Boyhood", "Dazed and Confused")
The film follows Gary Johnson, a staff investigator, who plays the role of a hit man to catch individuals ordering a hit.
Films: OCT 6th
RATE: $150/8
If you have a child that fits the specs, please submit them if you are available to attend with your child on the day of filming.
If you do not have a child that fits the specs but you know someone that does, please send them this casting call.
Feel free to share our post with friends and family!
Minors must have one guardian on set with them when working.
Parents of minors will be required to provide a signed minor consent form, and provide a copy of their child's birth certificate and birth certificate if cast.
Please register at www.mycastingfile.com if you have not already done so. MyCastingFile.com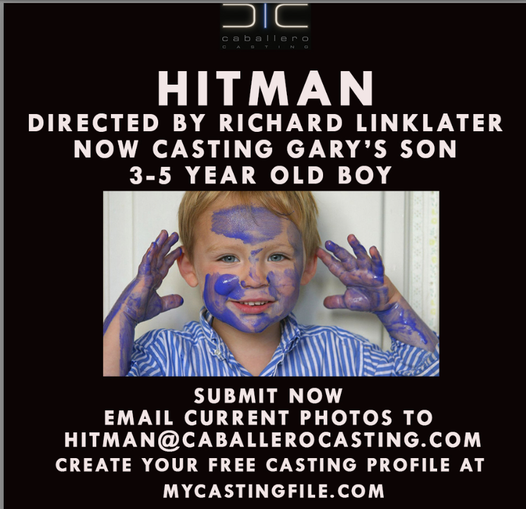 NOW CASTING: Boys, approximately 8 years old, who know how to play flag football
Shooting Locations: New Orleans Area
Shoot Dates: Photography starts October 3rd
Rates: $150-$200 per day
-NO ACTING EXPERIENCE REQUIRED
– NO VACCINATION REQUIREMENT
SUBMISSION INSTRUCTIONS:
Email: hitman@caballerocasting.com
SUBJECT LINE: FLAG FOOTBALL
INCLUDE THE FOLLOWING INFO:
Legal Name
Age and Date-of-Birth
Contact #
City/State of Residency
Height/Weight
Include flag football experience
INCLUDE 2 CURRENT PHOTOS: 1 headshot & 1 full-body photo head-to-toe. Stand in front of a solid background with hair down, ladies should have natural makeup.
Please refrain from submitting professional, black/white, Instagram-style or photoshopped photos. Photos should be taken on a smartphone.
Be sure to register for free with us www.mycastingfile.com